NewscastStudio's Set of the Year competition, which launched in 2009, honors the very best in scenic design for television news, sports and entertainment programming, along with lighting design and augmented reality. Past winners have included local television stations, sports networks and international broadcasters.
Overview and Timeline
The deadline to enter the Set of the Year competition is February 21
, so please
submit your entries today
to guarantee acceptance in this years competition. Continue reading below for more information about the contest, or feel free to contact us with additional questions.
Timeline
January 17 – Contest Open for Entries
March 1 – Final Entries Due
Early March – Fan Vote Begins
April – Winners Announced
Announcement of Winners
Winners will be announced during the 2017 NAB Show in Las Vegas, along with coverage on NewscastStudio.com and various social media channels.
Entry Fees
There is a $100 entry fee per project, per category.
All bonafide set design firms, vendors (such as lighting designers) and television stations receive their first entry at a 50% discount ($50).
Design firms, creative professionals and television stations may enter the contest.
Categories
Set of the Year: International
Set of the Year: National
Set of the Year: Local News
Set of the Year: Sports
Set of the Year: Entertainment
Set of the Year: Webcast
Set of the Year: Special Event
Set of the Year: Lighting Design
Set of the Year: AR / VR
Set of the Year: Fan Vote (all entries are automatically added to this category)
About the Trophy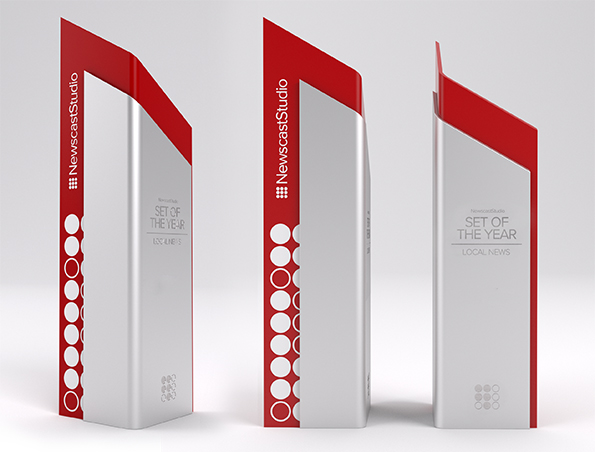 Handcrafted from aluminum, our custom designed Set of the Year trophy will be shipped to winners following the announcement of awards in April 2017.
Winning firms will receive one trophy, with duplicates available for purchase by design firms, authorized representatives or vendors.
In addition, trophies for past winners and associated vendors are also available for purchase.
Official Rules
No refunds of entry fees.
Entries will be accepted from authorized representatives of the station's design firm(s) or station.
The company name(s) provided on the entry form will be reproduced exactly as entered on awards and winning announcements.
To be eligible, projects must have debuted on an over-the-air, cable or web broadcast between Jan. 1, 2016 and Dec. 31, 2016. Sets installed between these dates but that were not included in a bonafide broadcast to the general public are not eligible.
Projects of any size, location or budget may be entered.
Projects must be original design and work, with no more than 50% of the design appearing in a previous set design project, with the exception of refurbishment projects.
The Local News category is reserved for projects for entities licensed or established to serve a single designated market area (DMA), or if no designated market area is available, a single metropolitan region. Projects for entities licensed or established to serve more than one DMA should be entered in the National category. All projects where the primary use is for a sports-related production should be entered into the Sports category.
NewscastStudio reserves the right to reject or re-categorize any entry for any reason.
NewscastStudio will determine the winner by selecting the project receiving the highest score among all eligible entries.
Honorable mentions will be awarded for work scoring within 10% of the top finisher's score in each category.
In the event of a tie, multiple entries may be awarded a win.
In the event a panel member was involved in a particular project as a designer, consultant or another role, he or she will be excused from scoring that project and will be replaced by an alternate panel member.
All entries will be automatically added to the Fan Vote portion of the Set of the Year contest, along with other relevant projects from the past eligibility period.
For the Fan Vote category, the winner will be determined through a series of elimination rounds where multiple sets will be voted on in a head-to-head style bracket. The projects receiving the most electronic votes at the NewscastStudio website will advance to the next round. In the event of a tie in an elimination matchup, more than one project may advance.
In the event of a tie between the two finalists, the finalist with the most cumulative votes in the preceding elimination rounds will win.
NewscastStudio reserves the right to eliminate Fan Vote votes for any reason.
Each bonafide design firm will receive its first entry at a reduced rate of $50, or 50% off, with each additional entry costing $100.
Payment of entry fees is required for judging. Outstanding entry fees or past due balances will result in immediate disqualification.