News music notes: Tips for selecting your news music package
[ezcol_1third class="guides"]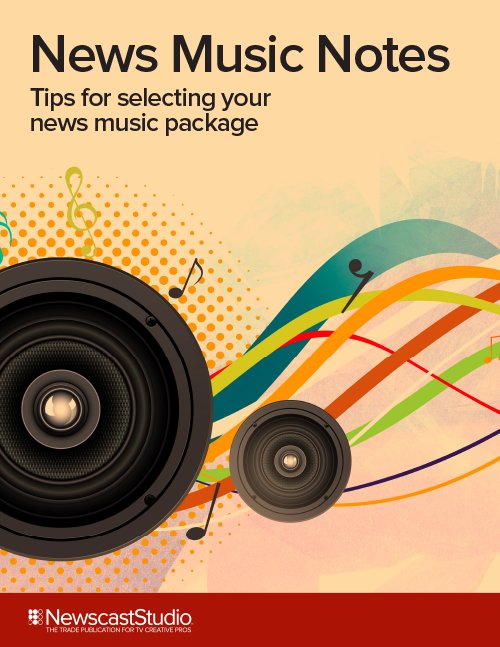 [/ezcol_1third]
[ezcol_2third_end class="guides"]When looking for a new music package there are several key factors to consider. The first is finding a package with a catchy signature. A signature is a set of notes that, when played together, form a memorable "mini-song" of sorts.
Download This Free Guide Now
[dlm_gf_form download_id=34600]
[/ezcol_2third_end]
[guide-text]
Some news music packages have much stronger signatures than others, though all news music packages have some form of a signature. Signatures, howeer, can often be lacking or less distinct in production music libraries, making them less than ideal for a news theme music package. A good rule of thumb is if you can listen to the music, do something else for an hour, and still hum back the melody, the piece has a good signature. It's also a good idea to find a signature that's distinct from your competitors' — whether it be a uniquely distinct beat or style or series of notes. Variety Second, look for a package that has a variety of different cuts in a variety of different styles. Consider if you want, for example, a lighter track for your morning show and a hard-hitting version for investigative report stingers. However, many packages come with hundreds of cuts, many of which you'll likely never use, so be careful not to go overboard. Local tastes And last but not least, make sure you select a package that fits your audience and local tastes. Don't use something overly-synthesized with a heavy beat if your viewers are more reserved. That same music, however, might be a good fit if your newscast emphasizes fast-paced storytelling. If your geographic region of the country is known for a particular style of music, you may also be able to find some packages that incorporate that into its notes. Even if the elements are subtle, this can be a great way to incorporate some local flavor and even history into your newscasts.
[/guide-text]