Great walls: Effective and creative options for on-set video wall graphics
[ezcol_1third class="guides"]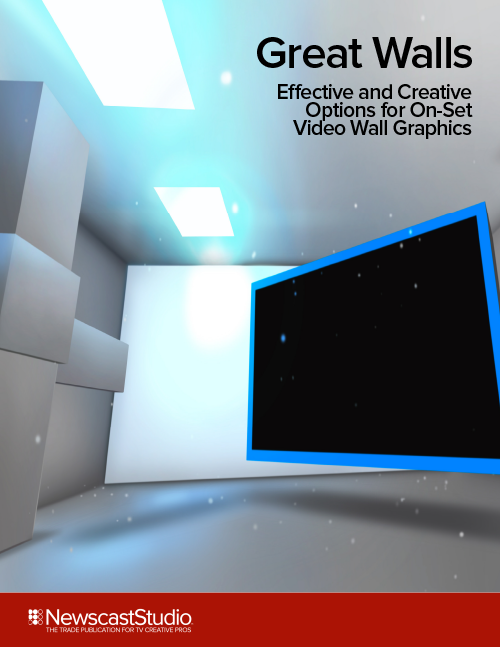 [/ezcol_1third]
[ezcol_2third_end class="guides"]It's no doubt flat panel video screens, video arrays and video walls are becoming more and more popular in TV news set design — and they are a great way to add dynamic and flexible background elements to a set.
Download This Free Guide Now
[dlm_gf_form download_id=34576]
[/ezcol_2third_end]
[guide-text]
Flexibility Screens and video walls allow the flexibility to instantly change out a background, instead of having to manually change out duratrans, as well being able to use motion and video. When considering using a screen on any area of the set, it's important to plan ahead and consider what imagery you'll feed to it. While it's exciting to have such a fun element on your set, using it ineffectively can look terrible. Video loops Live video loops Camera center video backgrounds often feature a live video loop of a cityscape. Feeding a live image is a great way to incorporate a real-time look at weather and lighting conditions, quite literally giving viewers a window on their world. Be sure to consider, however, what you'll use for a background if the feed isn't available to prevent a jarring shift in backgrounds. Backup loops Typically the best option is to build a library of backup video loops taken in various lighting and weather conditions. On the other hand, taped video loops avoid unwanted guests such as critters as well as the effects of inclement weather such as a shaking camera or moisture forming over the image. However, video loops do make it harder to convey weather conditions or lighting shifts that are prevalent as seasons change or relevant to your weather coverage. Other video loop options Video loops can also be used to project footage of a newsroom or control room or animated graphical collages. These techniques can be effective, but it's important to ensure the background isn't overly distracting and complements your anchors and the rest of the set. Avoiding jump cuts With any video loop, it's important to make sure you have enough footage to avoid having a jump cut when the loop restarts showing up on the air. One strategy is to record an extremely long clip (say 30 minutes or more). However, if this isn't possible due to technical limitations, another approach is to record a loop that's a few minutes longer than a typical block and then restart it just before coming out of each break. Cross-fades There are times, however, such as breaking news, where this might not be practical, so at the very least there should be a smooth cross-fade used when the loop starts over (this is also a helpful safety net in case someone forgets about the loop running out). Animated collages Animated collages, on the other hand, offer the advantage of infinite seamless looping, if designed correctly. Since animated collages have the advantage of being created entirely from scratch and inside a computer, creating a seamless loop is relatively simple. Animated collages can have a wide variety of images and designs: Station branding Of course, one of the most common elements used in animated collage backgrounds is station branding such as logos and slogans. Branding elements in video backgrounds don't have to be overly blatant — in fact, having it too obvious could be a bit distracting to viewers. Instead, consider ways to use blending and transparency to add in branding elements. Station numbers also often can be used effectively as a textural or oversized background element. Graphics package Your existing graphics package is also an easy source of inspiration for a video background. If you're able to, consider having the package designer create a design for you. Alternatively, you could base the loop on one of your package's fullscreen background templates. Cityscapes Finally, consider incorporating stock or stylized cityscape stills or video into your custom animated video collage. This is a great alternative to live video feeds, as it gives you more control.
[/guide-text]