No video, no problem: How to tell stories when there's no video
[ezcol_1third class="guides"]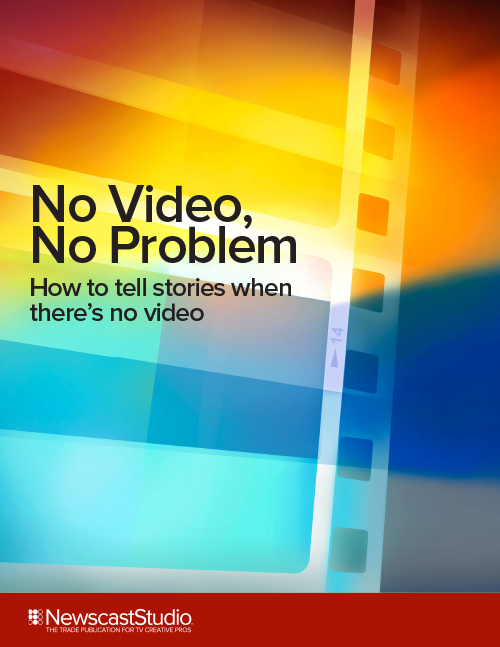 [/ezcol_1third]
[ezcol_2third_end class="guides"]Some of the most challenging stories to cover in television news are stories without video, since TV is, after all, a visual medium.
Download This Free Guide Now
[dlm_gf_form download_id=34593]
[/ezcol_2third_end]
However, there are some simple ways that you can avoid using boring anchor one-shots or B-roll. Options Full screen graphics and lists First, consider using full screen graphics as a way to add additional information to the story by providing bullet points that aren't in the script. These could be background information about the story, related resources or bullet points of key elements of the story. Charts and graphs Charts and graphs are another good way to add some additional information to a story even if the data shown isn't directly related to the story itself. For example, a story about a money fraud trial could offer viewers a chart showing how much is lost to fraud every year or tips for avoiding fraud. Cast of characters Another idea is to provide a "cast of characters" for stories that have a large number of people involved. This could include a headshot of each person, his or her name and a brief description of his or her connection to the story. Often complex stories with a large number of players can be confusing, so giving viewers this added context is a great way to enhance storytelling. Timelines A similar approach could be used to display a timeline of events for stories that stretch out over several months or years. Again, this can help give viewers key context about a story that they may have forgotton or not be familiar with. Enhancing storytelling It may seem a bit random to display information that isn't being read by anchors, but today's viewers are becoming more accustomed to absorbing additional information. Plus, with limited time available in a newscast, why not use the opportunity to give viewers a bit more information than the competition might? Providing alternative information also gives viewers who might not be interested in a particular story something else to keep their attention.