'GMA' debuts revamped Web page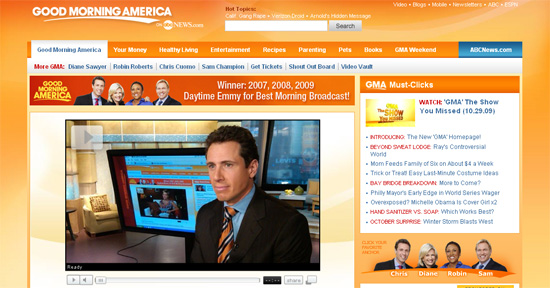 ABC News' "Good Morning America" has a new online home. The network has taken the wraps off its new Web site.
The new design features a fresh orange background and, while it uses the basic bones of the ABCNews.com site, departs a bit more from the ABC News design than other show sites such as "Nightline" and "World News."
The new site is also heavily video-oriented, offering a tabbed navigation interface with video thumbnails and links to the text version of the story. This is a nice approach in that it gives users the ability to select how to access each story. Often news stories only offer a video version of stories, making it difficult for users who can't or don't want to watch a video at the time.
It's interesting to note the sub-navigation links near the top of the page. The majority of these links are for individual talent pages, offering stories from that person. This personality-driven approach has shown up on other news sites, especially morning ones.
Overall, this site does a better job of creating a branded experience than the current "Today Show" site. The old "Today" site was a bit more in line with ABC's approach in that it offered a unique design while still staying within its parent site's structure. The current "Today" site, however, seems a bit rigid and crammed into a design that wasn't meant for it.
This redesign is a good reminder that the morning show battles aren't restricted to just television. It will be interesting to see how, if at all, "Today" and "The Early Show" respond to GMA's revamp.