Capturing Aggie Spirit: Inside Texas A&M's new broadcast facility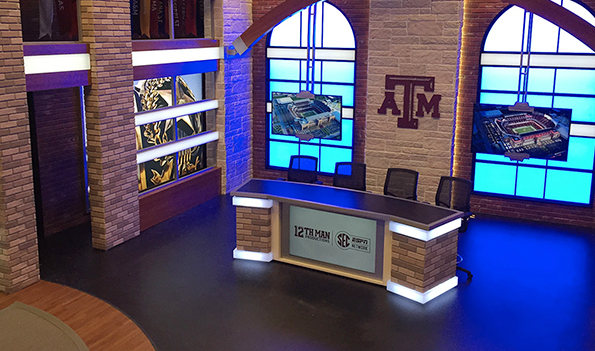 Subscribe to NewscastStudio's newsletter for the latest in broadcast design, technology and engineering delivered to your inbox.
The saying goes "everything is bigger in Texas," but lately, everything is bigger in the Southeastern Conference (SEC).
Since the conference's realignment in 2012, an arms race has been underway as athletic programs around the country work to improve facilities, performance and recruiting.
"We moved to the SEC in 2012 primarily to increase the national visibility of Texas A&M, not only in athletics but across the university," said Jason Cook, senior associate athletics director for Texas A&M. "We knew that we could not stop by simply getting into the SEC – we had to continue investing in the brand and telling our story on a larger scale."
For the 14 member schools of the SEC, a lucrative TV deal with ESPN created a new distribution platform for content and also created a need for high quality productions that would be viewed on a national scale.
"The SEC Network is putting the SEC in homes from Washington to Florida and California to Maine each and every day. And our fans know where to go to watch the Aggies play on TV." said Cook.
Going Big
Texas A&M, located in College Station, Texas, decided to go big with a $11.7 million broadcast facility upgrade that included three studios capable of various HD productions.
"We knew that prospective student-athletes and donors would not be impressed solely by the infrastructure," said Cook. "We needed a 'wow factor.'
This "wow" would come in the form of a broadcast studio designed around Aggie Nation and the 12th Man, communicating Texas A&M's brand and story across the SEC Network.
"We wanted the studio to create the feeling that the viewer was sitting right in the middle of the Texas A&M Athletics living room," said Cook. "From a production standpoint, we needed the studio to be extremely flexible. It could be used to shoot a football show in the morning, then a women's basketball feature in the afternoon. That's where a lot of the technology came into play, as well as the different scenes. We packed a lot of flexibility into a relatively small space."
After an RFP process, JHD Group was chosen by Texas A&M to capture that spirit, along with a detailed set of technological and scenic needs.
Behind the Design
While not nationally known like Texas A&M, JHD Group has quietly been serving the broadcast world for three decades, working on a variety of entertainment and sports productions, ranging from the Sports Emmy nominated "FOX NFL Sunday" Super Bowl XLVIII to production design for "Top Chef" and the Daytime Emmy Award winning "The Talk".
"The JHD Group distinguishes itself by not being locked into a design niche," said Jeff Hall, principal of JHD Group. "We are an entertainment production design company – often simultaneously designing live events, experiential and broadcast – including sports."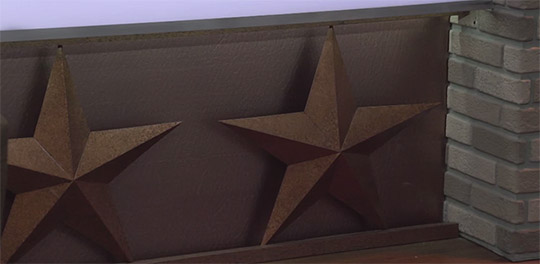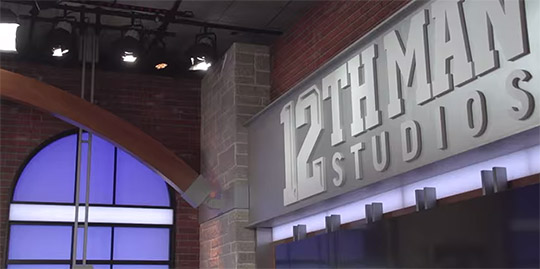 "We don't recycle old ideas to make them fit the current RFP," said Hall. "We develop a thru-line for each project, incorporating budgets, architecture, branding considerations and industry trends in electronics and lighting, collaborating with with several key partners including Diversified Systems, Redwood Media and Background Images in developing comprehensive design solutions."
JHD Group worked closely with the school to develop a design that was original, incorporating campus architecture and signature elements, such as the window treatments, ring sculpture, Texas star, SEC flags, etc.
"We viewed the JHD Group as partners in this creative process," said Andy Richardson, director of Texas A&M's 12th Man Productions. "They really made the extra effort to know the uniqueness of the 12th Man brand to our school and we saw their proposal as one that truly hit upon the unique aspects of A&M."
Video Tour
We'll have more details from Texas A&M's 12 Man Productions studio by JHD Group next week in Part II.
The latest in design, production and engineering
Subscribe to NewscastStudio for the latest delivered straight to your inbox.