NBCSports.com integrates with MSNBC.com
With the main site redesign completed, MSNBC.com has continued to create individual branded pages for other NBC properties using the MSNBC.com platform with the launch of a new NBCSports.com page.
The new site, found by entering the domain www.nbcsports.com or by clicking the "Sports" link on any MSNBC.com navigation menu, stays fairly well within the framework of the main MSNBC.com site, and boasts a dynamic top stories area and customizable modules for specific categories. Text links on the top of pages lead to in-season sports coverage from the site's broadcast counterpart.
The "fuller spectrum" color header background has been replaced with a simple blue gradient, creating a clean, modern look. It's an interesting move for a sports page — many sports pages seem to favor bold, flashy and high-tech graphical styles.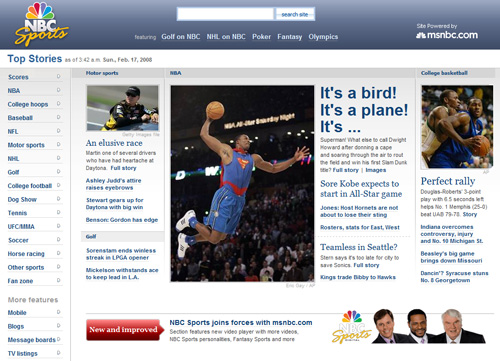 NBC Sports' online component has bounced back and forth over the years. For a while it was part of the MSNBC.com site, with the domain just redirecting to the MSNBC.com sports section front. Then it switched back to being its own site.
The new NBCSports.com is the latest in a series of branded sites that the folks at MSNBC.com have been developing since the relaunch of the main site:
TodayShow.com actually launched before the new MSNBC.com, possibly as a way to test out the new platform before going sitewide (the site has changed little since the main site relaunched). This site features its own unique design and navigation but follows MSNBC.com's text styling rules.
nightly.msnbc.com launched a bit after MSNBC.com and also uses a unique design, but stays more within the MSNBC.com templates with its design. This site's homepage focuses heavily on its standalone video player rather than text content like other areas of the site. By the way, GE owns "NBCNightlyNews.com" but hasn't chosen to brand this site with that name (or redirect traffic from the domain).
What's next? Maybe a unique Meet the Press site (MeetThePress.com is taken, though)? It's also interesting to note that most of MSNBC.com's blogs are still using the old blog design, including the Daily Nightly. It's a somewhat dated design that feels more like the old site, so that would be a good area to update next as well (a newer blog layout is used on the Alpha Channel blog).
The one area MSNBC.com could definitely brand better is the politics.msnbc.com domain that the cable net touts during election coverage. Although certainly not lacking in coverage, MSNBC could find a good opportunity to enforce its politics brand during this pivotal year.
You can stay on top of the latest Web features at MSNBC.com's interesting but somewhat neglected Alpha Channel blog.