Orlando station changes branding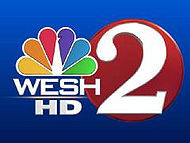 WESH-TV, the NBC affiliate serving Orlando, Fla., has a new slogan.
The station, which is owned by Hearst-Argyle, had been using "Big Coverage of the Big Story," but as of Dec. 1 at 4 p.m., switched to "Local. Live. Latebreaking."
The new slogan is based on the "LLL" branding used at many stations in the U.S., including several of WESH-TV's sister ones. However, WESH-TV has chosen to swap "Live" and "Local" from their more common locations, likely to emphasize the local-ness of the newscasts rather than "live."
While the change makes as certain amount of sense since "live" is a term overused in TV news in general — a fact that many viewers have caught on to — the new structure seems a bit awkward. This is likely because the original ordering of the slogan had words ordered by the number of syllables, with the number increasing with each word ("live" has one, "local" has two and "latebreaking" has three).
"We pride ourselves in delivering the area's most complete coverage of local news and Central Florida's most accurate forecast. We believe this new slogan truly defines the tone, style and news content viewers will get when they tune to WESH 2 News," said the president and general manager, Jim Carter.
I had always been a fan of the "Big Coverage of the Big Story" (which was often read on-air as "big coverage of the day's big stories.") and a little disappointed to see the station give up a rather unique moniker for a more tired and overused one.