Philly station airing 'big board' promo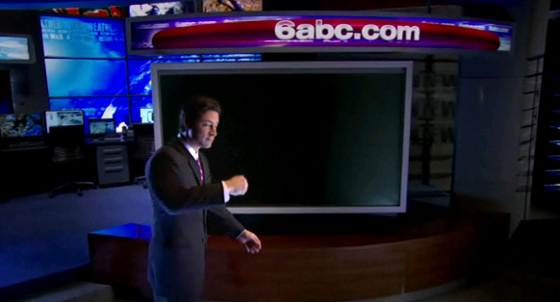 Philadelphia's WPVI-TV has begun airing promos that highlight its "big board," a touch-screen interactive monitor in the studio. Link to the promo video and more after the jump.
The promo features station staffers using the screen for a variety of purposes, starting off with the male reporter shown above flicking the screen on with a gesture worthy of a circus ringmaster.
The promo also features simulated images from "behind" the screen and does a good job of representing the various uses the screen has — weather, mapping, drawing and iPod-like gestures to zoom, shrink and move components around the screen.
The tagline for the campaign, "Your News. Your World. Move Closer." has an interesting tie-in to the channel's famous "Move Closer to Your World" theme song.
It's also interesting to note that the station is promoting such a high-tech piece of equipment, considering WPVI-TV is notorious for being behind the times and having a more subtle approach to presenting the news — the station was still using wall-painted weather maps with little handwritten cloud stickers within recent memory.
Click here to view the promo. HT to Bruce for the tip.