ESPN to rebrand ESPN360.com as ESPN3.com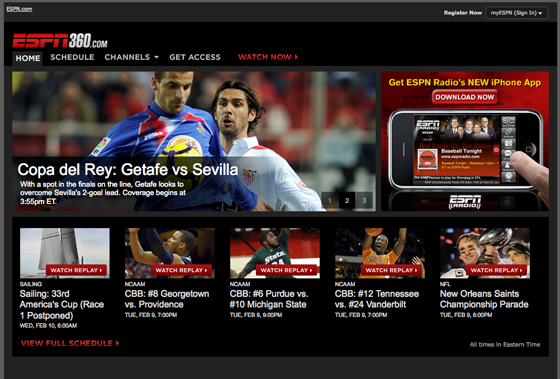 In an interesting move, ESPN will rename it's broadband channel April 4.
"The name ESPN3.com more closely aligns with the existing naming convention for our networks," said Sean Bratches, executive vice president, sales and marketing. "We have approached this as a network for years, and as users have become more accustomed to engaging with content across various screens, it made sense to make adjustments that reflect both the product's and the industry's evolution."
When debuted, the new site will also roll out new features but will remain a service only offered through subscription packages from cable and internet providers. Currently, sports fans can watch 20 streams in the main window and jump between larger versions of each feed.
"The network will continue to offer the same great content that sports fans have come to expect, with more than 3,500 live events annually.  We look forward to rolling out new enhancements to offer the best viewing experience possible in the months ahead," said Damon Phillips, vice president, ESPN3.com.
Sports on ESPN3.com include basketball, football, soccer, golf, baseball, tennis, lacrosse and many more.