'CBS This Morning' adds iOS app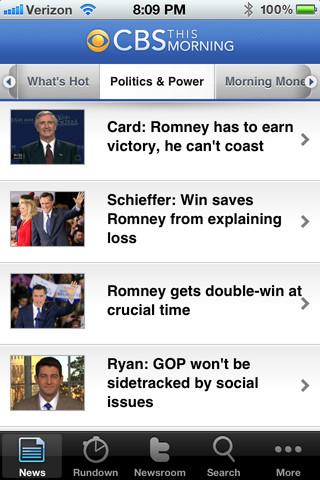 "CBS This Morning" has released an app for iOS devices iPod Touch, iPhone and iPad.
The new app, which is available for free in the Apple App Store, connects viewers with video, additional content and social media streams from the show's hosts.
In addition, "The Rundown" feature, which is also offered on the show's website, allows users to see an overview of each morning's broadcast and jump to specific segments.
"Since the launch of 'CBS This Morning,' we've tried to build a unique brand," said CBS News Vice President of Programming and "CBS This Morning" Executive Producer Chris Licht in a statement. "This app expands on that effort. It is a reflection of what viewers will experience on the broadcast: smart, significant content delivered in an accessible way."
Weather, social media sharing and categorized news headlines round out the app.