MSNBC rearranges N.Y., Pa. cities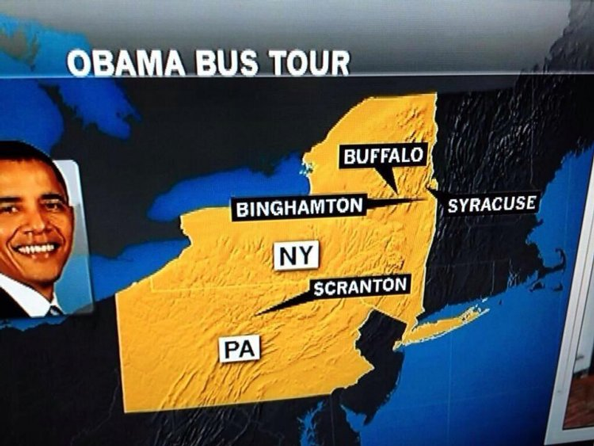 MSNBC aired the map above during "Martin Bashir," depicting the cities President Obama will visit on an upcoming bus tour.
The only thing it managed to get right were the state names.
Buffalo is actually located in western New York near Lake Erie.
Binghamton is located in south central New York near the "NY" label.
Syracuse is located in central New York (approximate location: just under where the "H" in "Binghamton" is)
Scranton is located in northeastern Pennsylvania (approximate location: just under where the "C" in "Scranton" is)
There's your Pennsylvania and New York state geography lesson for the day, courtesy of someone who went to college in one of the displaced cities — Scranton (in other Scranton TV news, WNEP-TV forecaster Joe Snedeker, known for his offbeat forecasts, celebrates 20 years at the station today).
The error comes shortly after MSNBC parent network NBC removed New Hampshire for a map during "Nightly News."
See also: Oklahoma is not Idaho