ESPN pays tribute to Stuart Scott with darkened studio, empty anchor chair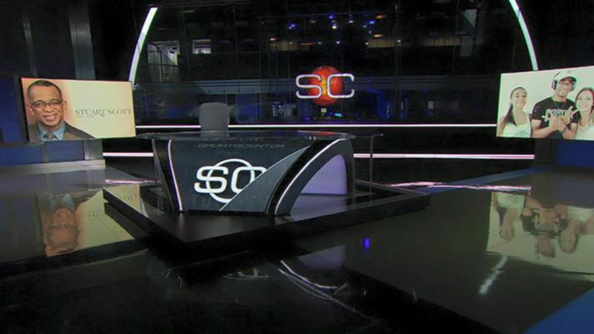 After airing a moving tribute package to anchor Stuart Scott, who died from cancer Sunday, ESPN left viewers with what was perhaps the most poignant, simple way to say goodbye — an empty anchor chair in a darkened "SportsCenter" studio.
The longtime anchor at the sports cable network, who had sat on at least four iterations of "SportsCenter" sets, received a touching tribute on the most recent set, completed in 2014.
In the clip, ESPN darkened much of the work area behind the set as well as the main studio area, leaving a single chair to the left side of the anchor desk. The show's logo remains illuminated, along with some of the backlit borders on the set, while the two on-set video walls display complete the tribute.