Chicago OTS: When saving space doesn't save face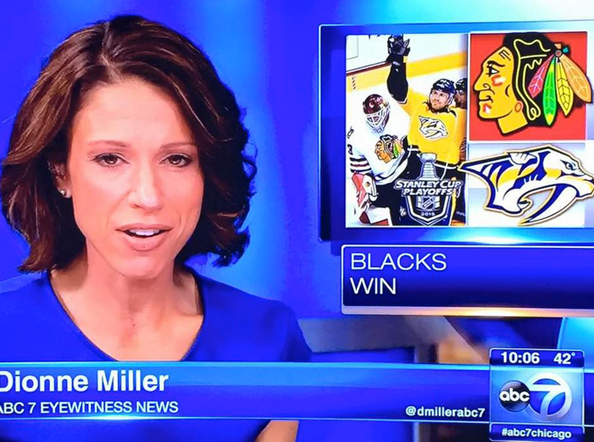 Sometimes trying to shorten something isn't the best idea — especially when you have plenty of room anyway.
This image, sent to us by a tipster and reportedly taken from a weekend newscast on WLS-TV in Chicago, shows sports anchor Dionne Miller reporting on the city's NHL team, the Blackhawks, wining a game with an OTS reading "Blacks Win."
Yeah, probably not the best way to shorten that team name, huh?
Although we can't independently confirm the authenticity of the image, multiple versions of the same image, taken at different times and from different angles have appeared on social media, so it appears to be the real deal.
The whole shortening of "Blackhawks" is particularly perplexing considering that WLS-TV had plenty of room to get in the extra five letters in "hawks" (which actually comes out to just four more characters if you consider that you'd be able to drop the "s" in "blacks").
Plus, even I, who knows next to nothing about sports, knows that Chicagoans prefer to shorten the name as "Da Hawks."