Apple News app will give news orgs branding, ad opportunities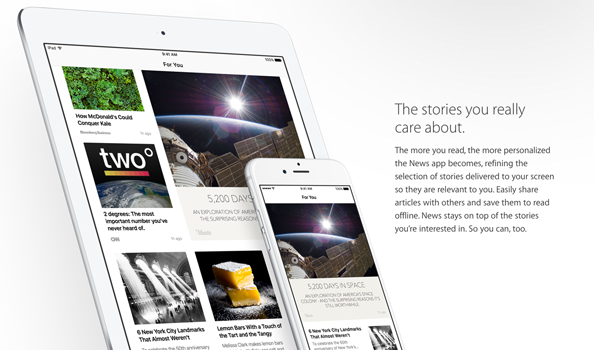 Apple News, the forthcoming customized news app that will come bundled in an iOS update later this month is expected to offer partner publishers branding opportunities as well as additional revenue streams.
The app, which many are equating to Flipboard, Zite and other similar news apps, will allow users to access news stories via a tightly formatted, uniform interface, reports the Associated Press.
However, news organizations that partner with Apple will be given the opportunity to adjust formatting within their sections of the app to match their branding — likely in a similar way that major motion pictures, albums and apps are can add custom imagery and background colors to iTunes and App Store pages.
At launch, Apple is said to have already worked out deals with 50 companies which, combined, represent hundreds of outlets. Some names in the broadcast space include CNN and Hearst.
CNN has created a team devoted to feedings its content to the app, but intends to view it more as a "lay back" magazine-style news source with less emphasis on breaking news.
On the business side, Apple is allowing publishers to sell ads within their content, for which they retain 100 percent of the revenue. Apple will also sell advertising via its iAds network and give 70 percent of that revenue to the publisher.
One huge advantage Apple News will have over competing apps is that it's baked into iOS — meaning users will automatically get the app when they update to the newest version of iOS and won't be able to remove it.