Megatrax launches brand, A-List Music, combining top Hollywood talent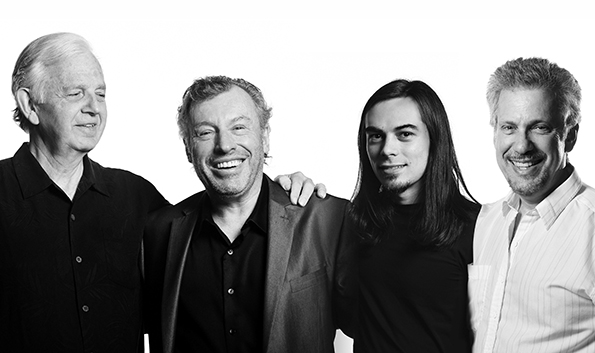 Megatrax, a production music company, has formed A-List Music, a new division that will focus on high-end licensing from some of Hollywood's top composers.
The new label, geared towards motion picture trailers and movie marketing campaigns, includes 25 composers and six albums at launch. The albums include 60 custom composed cues and 50 tracks of sound design.
The launch albums include:
"Out For Blood" (hybrid tension thriller)
"Ruination" (cinematic hybrid metal)
"Heroes and Villians" (epic action and adventure)
"Legends of Tomorrow" (epic action and adventure)
"Pandemonium" (musical percussion and sound design)
"Rage Machine" (trailer sound design elements)
The tracks were recorded by a 300 Piece Hybrid Studio Orchestra, boasting a 90-voice choir, a soaring 90-piece string section, a 30-piece brass section, and over 100 tracks of sound design, impacts, guitars, bass and drums. The A-List ensemble was further embellished with over 50 live percussion instruments, including multiple timpani, orchestral toms, taiko drums, tubular bells and gongs, to create a vast sonic palette.
"Our focus is on premium, exclusive, highly produced trailer music. Three years in the making, A-List Music offers movie marketers a world-class label designed to deliver picture-perfect cinematic sounds," said JC Dwyer, head of A-List. "A-List Music was envisioned by a remarkable team of film and trailer music industry veterans who worked with us to develop top-tier music for motion picture advertising campaigns that rival the best blockbuster film scores."
Composers who contributed to the albums include:
Bruce Broughton: Broughton has won 10 Emmy Awards (with 23 nominations,) most recently for his score for the HBO Film "Warm Springs." He earned an Oscar nomination for his score for "Silverado," and a Grammy Award nomination for the soundtrack for "Young Sherlock Holmes." Among his other credits are the TV series "JAG," TinyToon Adventures," "Dallas," "Quincy," and "Hawaii Five-O."
Jeff Carruthers: Carruthers is a multi-platinum composer, songwriter, producer, arranger and sound designer. In 2014, he earned a Grammy Award nomination for his work on the Dave Koz CD "Summer Horns." He has composed and arranged many Billboard # 1 singles, and has appeared onmorethan 50 Top Ten albums. He has four Platinum and four Gold Record Album awards.
Jim Dooley: Dooley won an Emmy Award for "Best Original Music Composition for a Series" for his work on ABC's "Pushing Daisies." He has contributed music to the hit DreamWorks animated features "Madagascar" and "Madagascar: Escape 2 Africa," and the Academy Award-winning animated film "Wallace & Gromit: The Curse of the Were-Rabbit." He collaborated with Hans Zimmer on "Gladiator," and contributed to the success of "The DaVinci Code," "Pirates of the Caribbean: The Curse of the Black Pearl," "The Ring," and many others.
Ryan Andrews: Andrews' work has been featured in the theatrical advertising campaigns for films and videogames including "Transformers: Age of Extinction," "Hercules," "The Expendables 3," and the "Call of Duty" game series.
Peter Bateman: Bateman's skills as an orchestrator are regularly called on by industry luminaries like Danny Elfman. His recent credits include "Maleficent," "Hunger Games: Catching Fire," "Fast & Furious 6," and hit videogames including "Bioshock" and "Batman: Arkham Origins."
Mark Denis: Denis has written music for theatrical campaigns behind "World War Z," "Iron Man 3," "Zero Dark Thirty," and "The Avengers." His work can also be heard on hundreds of TV programs and promos airing on the big four major television networks.
Eddie Wohl: Three time Emmy Award Winner Wohl has composed music placements on The Super Bowl, the NFL/CBS, the NBA/NBC, The Olympics, "Judge Judy," and "Inside Edition." He is also a producer of records with sales exceeding 6-million copies.
The other music composers who comprise the A-List Music banner are:
Robert Allaire ("American Horror Story," NBC's "Ironside" reboot, "Where the Hell is Matt?" videos)
Jeff Atmajian ("Groundhog Day," "The American President," "Chocolat," "The Sixth Sense," "The Dark Knight" and "Maleficent")
Zain Effendi ("Pirates of the Caribbean," "The Dark Knight," "Kung Fu Panda")
Craig Stuart Garfinkle ("The Office," "Fringe," "Lost," "The Sopranos," the final three "Harry Potter" films)
Randy Gist ("Teenage Mutant Ninja Turtles," "Despicable Me 2," "Elysium," "The Tonight Show with Jay Leno")
Benoit Grey ("The Day After Tomorrow," "The X-Files," "Priest")
Jesper Kyd (BAFTA Award Winner, videogames "Assassin's Creed," "Borderlands," "Hitman")
M.B. Gordy ("Terminator 3," "X-Men 2," "Transformers," "Mad Men")
Todd Haberman (NBC's "The Firm," "Flash Forward," "Arrow," Transformers 3," "Fast Five")
Yoshiro Hayata (Downbeat Magazine Award winning arranger and composer)
Sergio Jimenez Lacima ("Wax," "Viral," "Slice 3," "Call of Duty: Black Opps 2" videogame)
Gerard K. Marino (Principal composer, Sony Playstation's "God of War" franchise, "The Amazing Spider-Man," "The Punisher," "Superman Returns")
Garry Schyman (BAFTA Award Winner, videogames "BioShock," "BioShock 2," "BioShock Infinite," "The A-Team," "Magnum P.I.")
Jack Wall (videogames "Call of Duty: Black Ops 2," "Mass Effect," "Myst," TV show "Reign")
Sunna Wehrmeijer ("Robin Hood," "Prometheus," "The Grey," "Parkland," vocals heard within "The Hunger Games: Catching Fire")
Nathan Whitehead ("The Last Ship," "Transformers: Dark of the Moon," "The Purge: Anarchy")
Steve E. Williams ("A Current Affair," NBC's "Life," "The Jeff Probst Show," award winning advertising music composer)
Derek Jones (Berklee College of Music graduate, producer of over 350 albums, Producer/Sound Engineer/Mixer for David Hollister, Jeff Lorber & Robben Ford)