CNN launches 'Great Big Story' leveraging Facebook video, disguised ads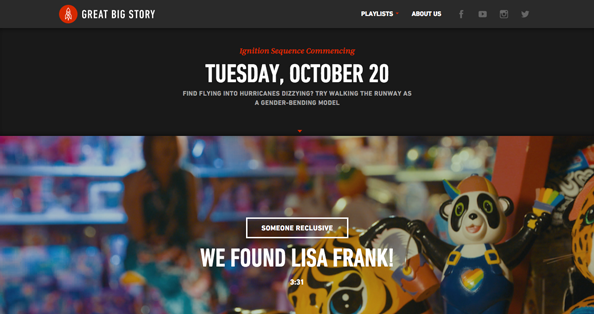 CNN has launched a new social-focused video site called Great Big Story that leverages Facebook as its video serving platform and will offer sponsored content without any disclaimers.
The site is being billed as a competitor to BuzzFeed and Vice and features irreverent content that's designed to be highly sharable — take the "The untold story of the Kool-Aid man" for example.
Interestingly, video content on the handful of pieces posted on Tuesday is hosted not on CNN's servers but on Facebook's. The video pane on the GreatBigStory.com pages is actually just an embedded Facebook video.
The arrangement is interesting in that CNN can both pass off the video storage and bandwidth costs to Facebook while also leveraging the social features of the site (CNN has partnered with Facebook on previous efforts, including several presidential debates).
Users playing the videos (and using the ubiquitous "like" button) both in their newsfeeds and on the Great Big Story site will be counted by Facebook and could be incorporated into the social network's complex ranking algorithm. Based on this, it's possible that significant views on the Great Big Story site could make the video clips more likely to surface organically in users' newsfeeds.
In addition to a responsive mobile view of the website, Great Big Story is also offering native iOS and Android apps.
It's also worth noting that there's very little evidence of the new service's CNN connections — with the notable exception of red being the dominant color. The copyright line credits "Great Big Story LLC" and a single sentence toward the end of the "About Us" page reads "GBS would like to thank our pulchritudinous friends over at CNN Worldwide for their unwavering support (and the checks that don't bounce)."
Another interesting part of the Great Big Story strategy is that the site will feature "native" (read: sponsored) content that won't be labeled as such.
Native content is all the rage among publishers these days, and CNN has implemented it in a variety of ways on its main Web properties, but the content is always labeled as being sponsored. Apparently CNN has decided that since this content is posted under the Great Big Story brand, it doesn't need to be disclaimed as such.
The main strategy behind Great Big Story is to attempt to reach millennials through content that appeals to them — as well as being able to show them sponsored content from paying advertisers.