CNN gets OK to fly news drones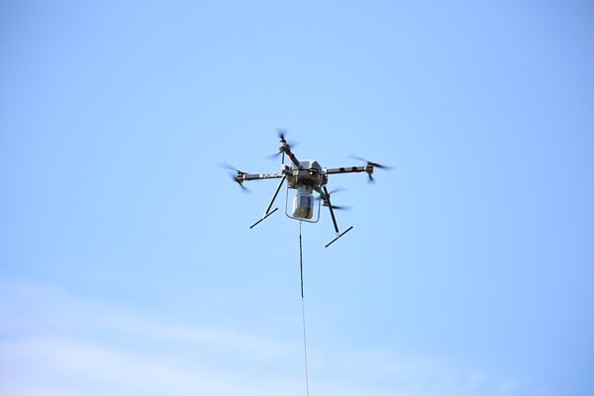 The FAA has given cable network CNN the green light to fly drones for commercial newsgathering.
In giving the OK, the FAA is requiring CNN to fly drones at heights under 400 feet and slower than 100 mph. At the same time, the network was also granted an exemption for the requirement of applying for a certificate of airworthiness that is normally required for aircraft. In granting the waiver, the FAA pointed out that such a requirement "would be detrimental to the petitioner."
Newsgathering organizations, as well as a myriad of other industries, are expressing increased interest in drones for commercial uses, including a proposal by retail giant Amazon to use the devices for delivering customer orders.
The CNN approval comes as the FAA announces proposed broader regulations for drones, including a national registry, for non-commercial and hobbyist uses. The new rules call for a $5 registration fee and also limit speed and altitudes, in addition to existing rules about operating drones within five miles of airports. The FAA proposal also outlines fines of up to $250,000 for using drones for criminal use and $27,000 for civil violations.
Perhaps the most significant proposed regulation, however, is a rule that the drone must also remain sight of the operator. Such regulations could have implications on delivery services such as those proposed by Amazon unless the FAA ends up granting exceptions in commercial uses.
It could also add an extra layer of planning and coordination when using a drone for newsgathering — and ultimately likely would make them impractical in some cases. For example, in situations such as traffic reports on morning news, where helicopters, the current preferred source of aerial footage, are frequently moved from one location to another across a metropolitan area as traffic situations develop, it would become next to impossible to have the operator always remain within sight of the drone.
Meanwhile, on the same day the CNN approval was announced, Drone Aviation Holding Corp. issued a press release saying that its WATT-200 tethered drone was approved for commercial use by a "major news organization," but the company is refusing to name what organization that is.
It's worth noting that the model mentioned, though not officially linked to CNN, is tethered — meaning the drone's distance from launch is limited by definition and would likely only make it suitable for capturing aerial footage of a relatively small area and in planned scenarios.
All that said, it's unlikely that drones will replace news helicopters anytime soon, despite the obvious appeal of a much lower cost to operate. However, drones will make it possible for journalists to make use of aerial footage for stories where it would have been impractical or cost prohibitive to do so with only a chopper as an option.