Canal+ upgrades video wall with Vizrt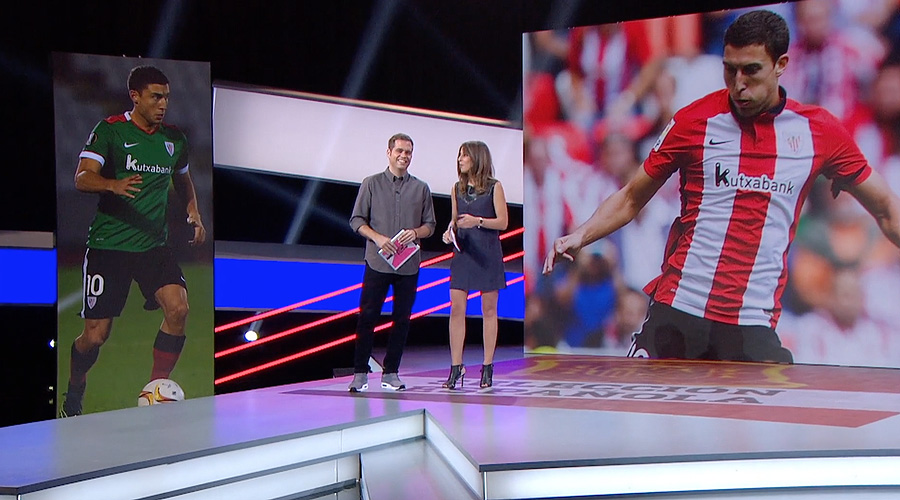 Spanish broadcaster Canal+ is maximizing its studio for "Mucho Más Deporte" (Much More Sports) with the help of Vizrt.
Made up of three main sections, the shows set includes a 45m2 RPG video wall that includes a video floor.
To power the monitors, Canal+ is using a Viz Multiplay video wall control system with three output channels that feature a series of graphics and video 'events' that trigger a single Viz Engine real-time rendering and compositing system. The solution gives Canal+ producers a simple way to control studio screen content from a single interface.
"Because of the nature of the show we need a lot of flexibility in our studio screen configurations. Viz Multiplay allows us to control an individual screen or trigger content to multiple screens simultaneously," said Javier Riloba, head of production. "We can also build custom presets allowing the positioning of content in the video wall to be changed live with animated effects – all with a single click on the touchscreen."
"The simple drag-and-drop capability of the tool allows us to have content ready for air immediately and enables us to quickly build up a database of searchable videos and images within the video wall workflow," added Riloba.
"This video wall is all about displaying content to help tell stories in the most compelling way," said Petter Ole Jakobsen, Vizrt CTO. "This 'content' is created with Vizrt's software-based tools that the staff at Canal+ Spain are very familiar with. In designing their new studio, Canal+'s technical management understood immediately that in order to stand out among the competition by presenting content in a unique way, their show needed highly flexible solutions like Vizrt tools."
"We needed technology that was easy to implement and easy to operate. We have come to trust Vizrt's technology and how it can reshape a show in the most appealing way," said Riloba.