Telia uses virtual studio to create an 'icy' stadium-like environment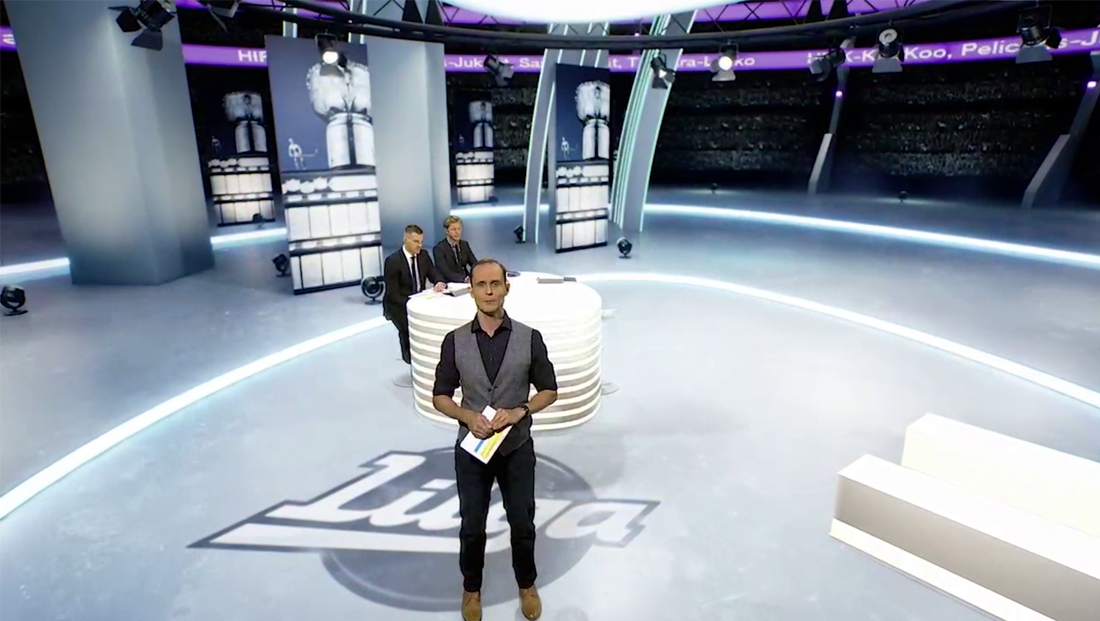 Subscribe to NewscastStudio's newsletter for the latest in broadcast design and engineering delivered to your inbox.
Finnish network Telia's coverage of the Liiga ice hockey league included virtual set technology powered by Zero Density that created an environment inspired by ice hockey stadiums.
Zero Density worked with teams from Streamteam and Broadcast Solutions Finland on the virtual studio setup, which is located in Helsinki, Finland.
Dreamwall provided the virtual 3D design for the set, with Zero Density's Reality software controlling the output with Epic Game's Unreal Engine rendering the look.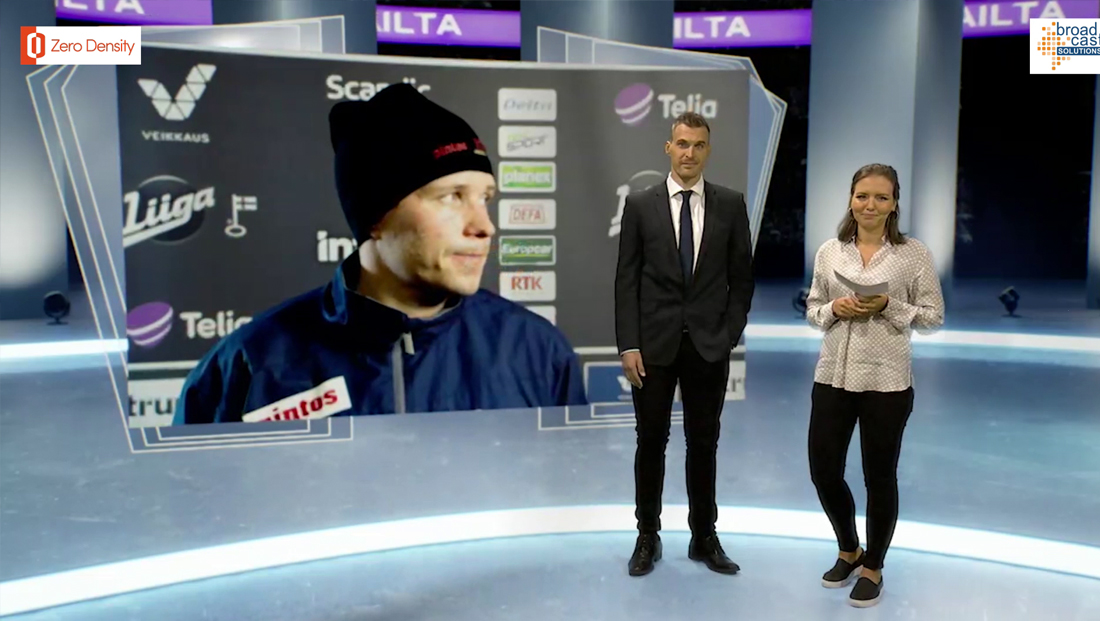 The virtual set is inspired by ice — with artfully textured floor that mirrors the look of an ice rink — complete with the Liiga league logo "under" the ice.
The space also features blocky columns that could be either internally lit glass or ice — along with a virtual LED ribbon similar to those found in stadiums around the world.
Additional elements include a curved desk as well as virtual video panels that show an oversized, icy version of the Liiga championship trophy. The virtual set also includes both light and dark structural elements mimicking stadium design, with virtual light fixtures on the floor and suspended from a "grid" above.
In addition to the virtual set itself, the look can be "augmented" with graphics that appear to "float" behind the in-studio talent. Many of these graphics feature layers of semitransparent polygons.
Telia covers 450 ice hockey games every season, with the Helsinki production facility serving as a hub that's linked to 14 venues across the country.
At any given time, the production hub can broadcast from seven locations simultaneously.
In the virtual studio, Zero Density's Reality software supplied the photo-realistic virtual studio set, with a Telemetrics robotic and tracking system used to align video signals with graphics.
The hub is equipped with four Reality Engines realtime node-based compositor which enables post-production style visual effects during live broadcasts.
In addition to the virtual set, Zero Density also powered a "teleportation" feature where a player was beamed into the studio for a live interview, appearing next to the talent.