'Today' lands a 'BAD' new desk in Studio 1A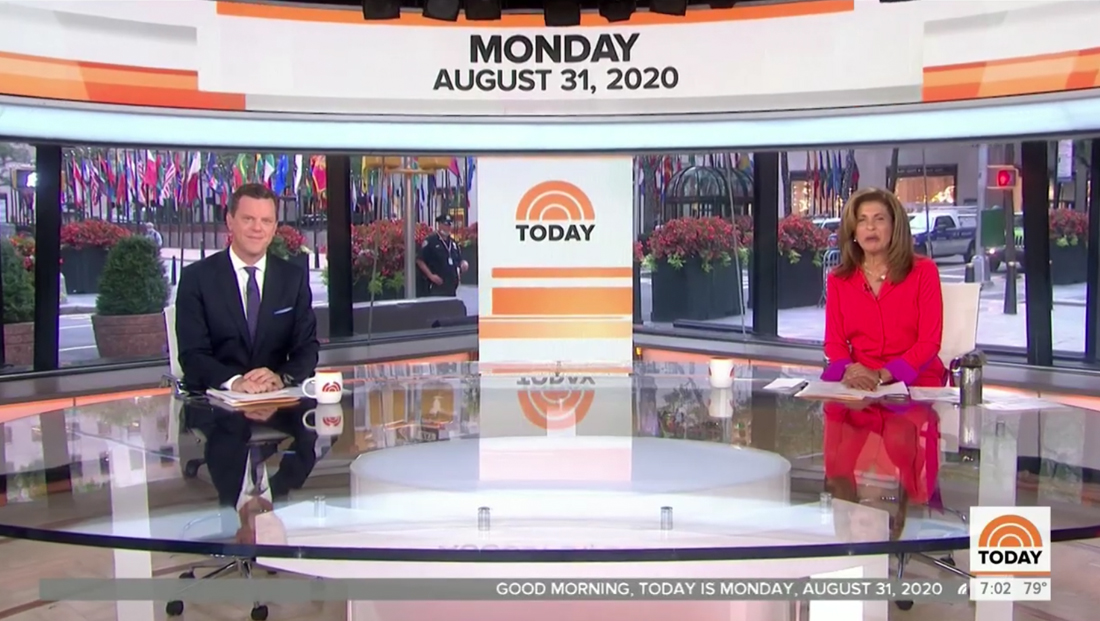 Apparently settling in for the long haul of social distancing, "Today" introduced a really big new anchor desk update Aug. 31, 2020.
Like most broadcasters, "Today" has opted to sit on set talent farther apart due to the coronavirus pandemic — whether standing or at the anchor desk. This sometimes results in rather odd arrangements where those sitting on the end looking like they were squeezed into the "adult table" at Thanksgiving at the last minute.
The "Today" solution appears to have been to take the same base from the anchor desk it added in a 2015 set update and add much larger thick glass top to it.
The network also brought into some extra white supports to help keep the massive piece of glass stable.
In some ways, these are reminiscent of the supports that are sometimes added to the corners of glass anchor desk tops when the set is not in use to provide a little extra support but still allow for more dramatic looks on air.
The glass itself almost looks like a flying saucer landed in the corner of Studio 1A — and there have been times when anchors slap the desk for emphasis and the entire surface wobbles.
In addition to the furniture update, the network also quietly started labeling a brief preview of a story coming up quite suited for the lead under the banner "Happening Today" complete with its own stinger and rectangular graphic in the lower left.
While not a new invention, it does help the show tease something coming up before divining into the top story.
Somewhat oddly, Aug. 31's "Happening Today" spotlighting a 2018 interview Willie Geist did with the late Chadwick Boseman — though, in fairness, the interview was getting more attention due to the star's recent death.
Some broadcasters refer to rear projection screens, large video panels or video walls as "BAM"s — short for "big ass monitor" — so we would like to introduce the "Today" "BAD" — "big ass desk."
The latest in design, production and engineering
Subscribe to NewscastStudio for the latest delivered straight to your inbox.