CNN adds large leaderboard ad to homepage; plus some thoughts on online advertising
CNN.com has been experimenting with some new forms of online advertising recently.
Within the past few months, Apple has bought a wide skyscraper-style ad that runs along the right side complemented by a horizontal strip ad under the site navigation. One of these ads had the familiar "Mac" and "PC" actors, in the full motion video, looking at the ticker displayed in the banner "above" them.
Monday saw a Chevron ad that starts out very large and then shrinks to a narrow strip once its played through once. Users can re-expand it by clicking the "+" sign on the banner.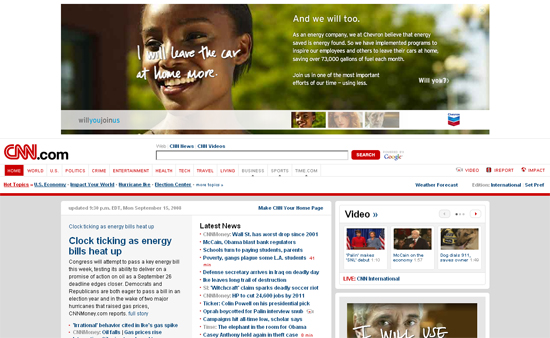 It's interesting to see news sites experimenting with some new forms of online banner ads. The days of straightforward banner ads are slowly fading and, in today's troubled economy it's no doubt that advertisers are demanding more bang for their buck.
One possibilities for online advertising that interests us is a practice called "roadblocking," where an advertiser takes over all ad inventory on a section of a site or even the entire site for a set period of time (usually a few hours to a day). It's similar to how the evening network news shows have experimented with single-sponsor newscasts.
As online ads become more and more targeted, it's also becoming interesting how closely can ads match the news content (thought sometimes this is an in bit of backward way). For example, an MSNBC.com article about a man who ate some 23,000 Big Macs was, when we visited, showing weight loss ads.
The question is also whether advertisers want to be associated with this type of content (for example, would Amtrack want their ad to be featured next to a story about the recent California track crash?).
MSNBC.com has taken advertising a step farther by having special sections, sponsored by a single advertiser, that contains content related to that company's products or services.
That said, advertising is how most media makes its money and times are changing. In a cluttered media market, things do need to be a bit more flashy to stand out and get noticed, something that directly affects revenues a site or property can make from ads. News sites need to make their ad products different from any other form of media and, on the Internet, that means interactivity, targeted content and niche sections.
As long as ads are always labeled as such, don't drive converage to be too positive or negative and don't get too annoying, then why not be a bit creative with how they're presented? But how do you know what's too far? That's the challenge.