CNN.com plugs Facebook feed with sister of founder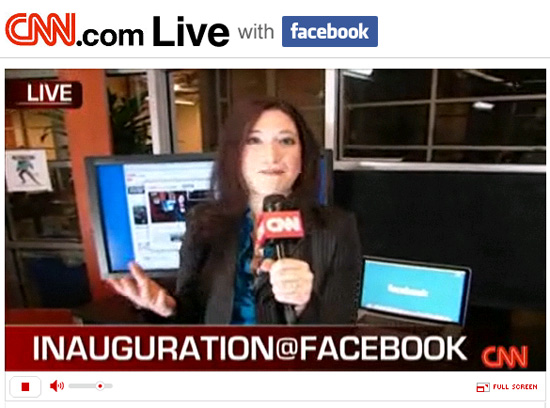 This morning, Randi Zuckerburg, the sister of Facebook founder Mark, and director of market development at the company, has popped up on the CNN.com live feed plugging the partnership between the two companies.
It's a bit of a blur between corporate sponsorship since Zuckerburg appeared not as a guest but as a quasi-reporter interviewing a Facebook engineer about the feature complete with a CNN mic flag. Randi traded obviously-rehearsed questions with the engineer, but not before forgetting to hand the mic over to him, rendering his first few sentences unintelligible.
Personally, I'm also a bit disappointed with the Facebook/CNN.com partnership. First, the service is using the CNN.com feed, when I'd rather be seeing the main CNN video since I don't have access to a television. Second, it's honestly not that exciting to see all my friends' status updates, which are all essentially the same thing over and over: "Joe is excited for today," "Matt is excited," "Bill is happy for today," "Katie is watching history unfold." Though one of my friends informed the Facebook world his car smells like celery today…