Chyron's slick Axis interface brings quality graphics to the desktop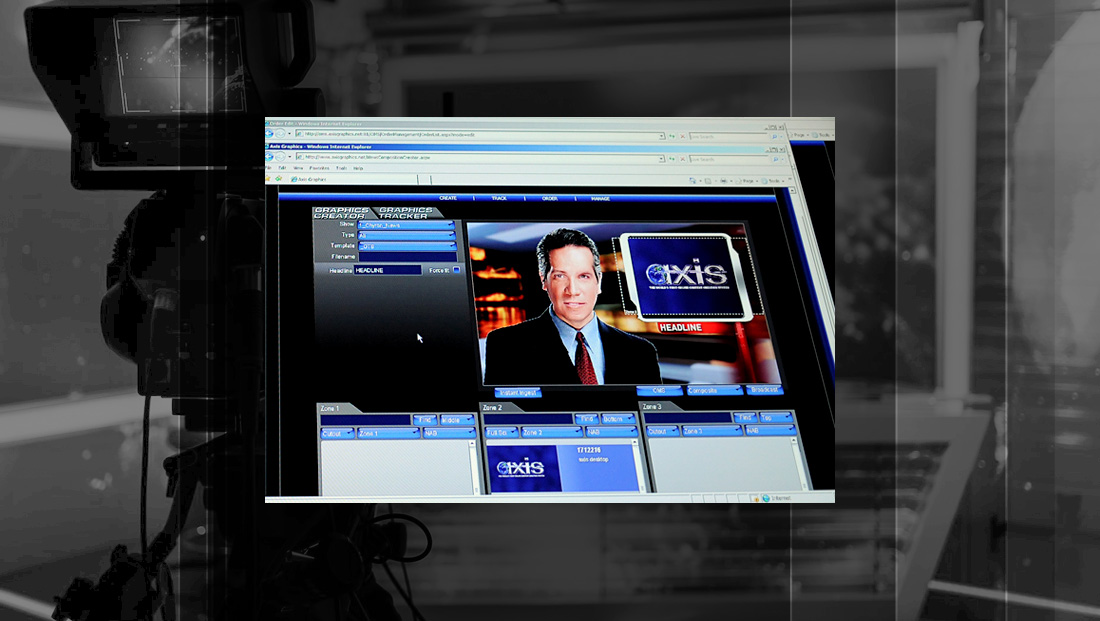 Subscribe to NewscastStudio for the latest news, project case studies and product announcements in broadcast technology, creative design and engineering delivered to your inbox.
Broadcast graphics giant Chyron has announced a series of upcoming enhancements to its Axis graphics system, but the the entirely Web-based broadcast graphics solution already boasts an impressive arsenal of tools.
Chyron Product Special Cheri Kresge walked NewscastStudio through a personal tour of the graphics system at the NAB Show in Las Vegas Monday.
Since Axis is entirely Web-based, it requires no special hardware and runs through most standard Internet browsers equipped with the Flash Player 10 plugin, Kresge explained. Chyron maintains all back-end systems necessary on its servers, including any needed maintenance and updates.
Axis was purchased last year by Chyron. At that time, it only allowed for Web-based map creation, said Steve Papadakis, director of sales and marketing for Chyron online. Chryon spent the last year expanding and enhancing the product into its present-day offering, which offers animated maps and charts as well as news graphics creation and management.Axis is divided into four main areas: Create, Track, Order and Manage.
The create tab easily guides users though a series of easy-to-understand menus. For example, Kresge demonstrated how an OTS can be created using these steps:
Select the appropriate show and graphics type, in this case, OTS
A user can then enter the graphic's headline and see the preview updated in real-time on their screen
For the graphical elements, various zones are available in a stacked order, allowing the user to add a foreground image as well as background elements.
When finished, there are simple output options that can instantly send to the full-quality image file to the graphics system
Images can be pulled from a variety of sources, including the Associated Press, Reuters and MGN. Users can also import and manipulate their own images. All imagery can be resized and repositioned in real-time using the on-screen editor.
One highlight of the creation side of Axis is its ability to repurpose graphics instantly. For example, Kresge showed us how an OTS can be, with the click of the mouse, be changed into a Web banner. The system intuitively repositions text and image elements and allows the user to fine-tune if needed.
Axis is also integrated with MAXedit, a Web-based video editing system that allows users to edit video that includes Axis graphics.
At this time, Axis only supports animation in maps and charts, though elements can be easily exported in a keyable format that the control room can assembled into a hybrid animated and still graphic.
On the mapping side, eye-catching zoom-ins can be created from preset locations or custom levels in a few simple steps. Users can adjust the font, size and rotation of labels as well as add their own.
"Users can also create raised 'heroes' of states that pop out from the rest of the map," said Kresge. All of these elements can also be moved simply by clicking and dragging.
Map animation is accomplished with a simple keyframe-style approach that asks the user to define the start and ending point (with built-in presets available) and then Axis' rendering servers do the rest.
Mapping data, including satellite imagery, is provided by Microsoft's Virtual Earth, a recent addition to the product's offerings.
Charts operate in a similar way. Users input data into a simple interface (no spreadsheet knowledege required here) and can switch between horizontal bars, vertical bars and pie charts, all of which can be animated.
It's also possible to create stock charts on the fly with Axis. The charts the system generated go beyond simple Microsoft Excel-style images and instead offer custom branding and fine-tuned detailing.
Axis has several safeguards built in to prevent any wayward use of the system that's inconsisent with the station's branding. For example, dynamic spellchecking is available as well as on-screen warnings when an elements is placed too close to another. The graphics department can also limit the color palettes used in certain elements as well as typefaces.
The graphics department can import layered PSD files onto the server and designate various layers that can be defined as specific parts of the final graphic. Included in this feature is the ability to define "cut out" zones and custom bullets, according to Kresge.
While Axis allows graphics to be completed from start to finish by a user at almost any skill level, there is also a built-in ordering system so producers or other newsroom personnel can post requests for graphics. A specially designed form asks the user to designate what they want for various zones, a feature that does a great job of forcing users to be more descriptive in what they want.
These orders can be sent to a station's in-house graphics team or to a hub operation.
Axis is optimized for use in station group settings. If configured in this manner, stations can access each others graphics and instantly repurpose them into their own color scheme and branding. Stations can share photography and other elements, all of which are securely stored on Axis' servers.
Axis also includes an integrated analytics solution, allowing designated users to see which stations are creating the most graphics and how often users are logging in.
That latter data can be particularly useful in determining if someone might need some extra training, says Kresge.
Chyron provides online video tutorials as well as an interactive user forum as part of its self-serve training options. More detailed training support is also available.
The key advantage of a system like Axis, particularly with station groups, is cost savings.
Although Papadakis declined to discuss specific pricing on the Axis system, he did indicate that it can be implemented for "hundreds of dollars per month" rather than thousands.
"This is also an immediate return on investment," said Papadakis. "Not months, not years, it's a savings that's seen right away."
A typical station group can see an 8:1 to 10:1 cost-savings advantage, according to Chyron. "Standalone" or smaller station groups also see savings, typically in the 4:1 range.
Another key advantage of adding Axis is that it doesn't require substantial realignment of staff, said Papadakis.
Subscribe to NewscastStudio for the latest news, project case studies and product announcements in broadcast technology, creative design and engineering delivered to your inbox.