Nashville Fox and DDG earn Emmy nomination for set design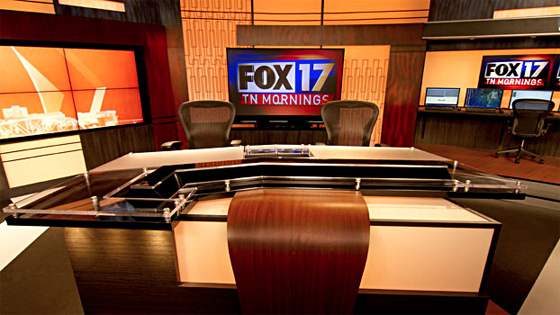 Devlin Design Group's set for WZTV-TV has been nominated for a National Academy of Television Arts & Sciences Emmy Award in the Nashville Chapter.
"We are thrilled with the Emmy nomination for our set! The DDG set rocks, and viewer feedback has been tremendous since we launched! Our set is high-tech, hip and really lets our anchors work the room," said Roberta Petterson, news director at WZTV-TV.
The set combines modern, backlit elements with gray-hued and warm wood-toned walls. NewscastStudio's full write up on the project can be found here. DDG also has a complete gallery and video of the set on its site.
"Viewers have seen instant benefit now that we have so many ways to showcase a story, all the electronic displays give us so many options to see clear, beautiful HD video and graphics," said Roberta." Our working weather set is a huge factor during severe weather, allowing for team weather coverage and so many ways to visually warn viewers with radar, video and graphics, and is so accessible."
The other sets nominated for the Emmy Award include:
Designer Showcase, Cheri Perry. Jewelry Television
Holiday Elegance, Cheri Perry, Jewelry Television
News 2 News Set, Matthew Zelkind, Vince Conti, WKRN
WZTV News Set, Dan Devlin, Devlin Design Group