NBC Chicago's 'windows' go blue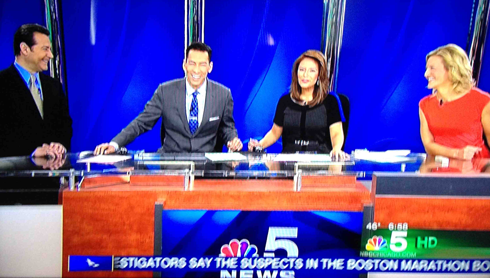 I've noticed NBC Chicago, WMAQ-TV, has been using a blue background in place of its "windows" — actually large flat screen panels mounted vertically and arranged five in a row that normally have a live camera of the Magnificent Mile fed to them.
The blue background has been used off and on over the past week or so, including some instances where only the outermost two panels were blue, with the center three still showing live video.
The blue graphic fed to the monitors is a vibrant blue shade that matches the channel's graphics package.
No word on why this is being done — if it's something the station is experimenting with or as the result of technical problems with the camera feed.
I have noticed the camera feed is often too "gained up" and tends to wobble during windy weather, which creates a bit of a dizzying effect when seen behind the seated anchors.
All that said, the use of graphics does demonstrate the flexibility the set has in instantly being able to change its look. The video panels could also just as easily be used for topical graphics, other video feeds or looping motion graphics.
The station debuted a new set last spring, a design that originally only included a 3×3 low profile monitor array, only to modify it that September for the five panel design, similar to the one installed at WNBC-TV in March 2012.
WMAQ-TV closed its 10-year-old streetside studio on Michigan Avenue earlier this year, moving production of its morning and midday news to the main studio in the nearby NBC Tower. At the time, executives were quick to point out that the new set's monitor array still allowed the station to show a live street view behind its anchors.