Media General launches multiple sets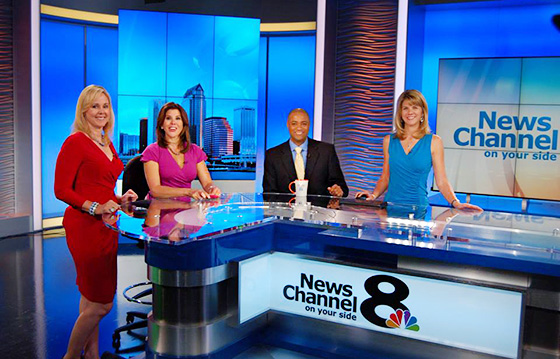 Three Media General stations rolled out new set designs from FX Design Group for the May book.
WFLA-TV, WSPA-TV and WCBD-TV received similar sets that each have unique features and elements.
"Each market has its own personality and look while being light, bright and ever-changing," said Mack McLaughlin, FX Design Group CEO and Design Director. "We were able to bring out the personality of each market while co-opting some technology at better price points."
Each set is built around a contemporary design with LED curtains, allowing the set to change colors based on different news dayparts and events. All three stations have a 3×3 46″ monitor wall and an 80″ touch screen. WFLA-TV has a 2×3 46″ vertical monitor array to showcase breaking news, branding and special graphics.
"We are excited to be giving our viewers modern and technologically-advanced news sets that give us innovative ways to tell stories" said Donna M. Reed, Media General VP of Content. "These sets move each newscast forward with breaking news, visual storytelling and graphic presentation."
FX describes these sets as "ever-changing," meaning the station can continue to change colors and branding to create multiple unique looks on-air.
"We were looking for as much versatility in these sets as possible," said Mark Turner, VP of Technology for Media General. "For instance, WFLA-TV has 15 different shooting locations to showcase every news, weather, traffic and entertainment possibility they can dream up."
WSPA-TV has the ability to change color in the weather center for severe weather coverage. WFLA-TV has as much shot versatility as nearly any set designed by FX Creative Group. WCBD-TV has multiple technology centers to highlight and showcase every piece of the newscast.
We've posted a gallery of each set on SetStudio, take a look: WFLA-TV, WSPA-TV and WCBD-TV.