ESPN debuts World Cup theme music from Warner/Chappell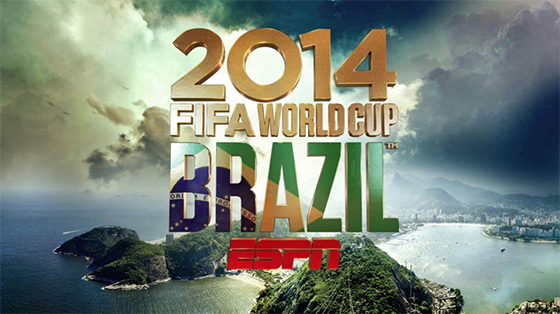 Warner/Chappell Production Music has created a new theme and music package for the 2014 FIFA World Cup to be broadcast on ESPN.
Warner/Chappell Production Music produced over 150 tracks overall at their state-of-the-art studios in Salt Lake City, UT.
Featuring a modified theme from the 2010 FIFA World Cup, Warner/Chappell Production Music created new opens, bumpers, vamps and closers. In addition, world-renowned percussionist, Alex Acuna, provided all the ethnic percussion tracks at the legendary Ocean Way Studios in Los Angeles, CA. Wayne Bergeron added his trumpet to select tracks.
This extensive package was produced by Warner/Chappell Production Music's own Bryan Hofheins and Judd Maher and composed by Lisle Moore. This Production Team produced the original Theme package for ESPN's coverage of the 2010 FIFA World Cup, which aired first for the South Africa Games.
They were ecstatic to adapt and add to the memorable theme music package for the Brazil World Cup stage.
"What an honor and privilege it was to be a part of writing the music for the 2014 FIFA World Cup. It's exciting to think that the games will be broadcast all over the globe! Hopefully we captured the same excitement and grandeur that this beautiful game gives to its fans worldwide."
Bryan Hofheins echoed Lisle's sentiment by saying, "It has been an honor and a thrill to create the music theme package for the world's largest sporting event! We utilized the best talent in the world to bring their 'A' game, and everyone came through big time."
Randy Wachtler, President & CEO, said, "I'm so incredibly proud of our Production Team for creating this amazing music that will be heard throughout the world."