CBS puts out the trash: Letterman's set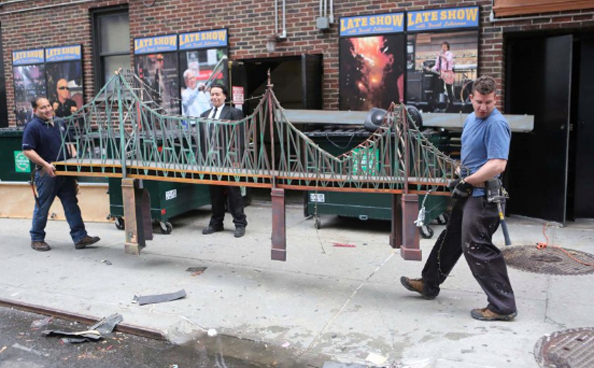 Just hours after his final show wrapped, David Letterman's set has already been hauled out to the proverbial curb.
The New York Post reports that crews were spotted removing pieces of the stage, theatre chairs and pieces of the model bridges that formed the background for Letterman's show.
Many pieces were simply sawed up and thrown into trash containers in a cordoned off area outside the Ed Sullivan Theatre on Broadway. Some workers were even seen smashing pieces of the set.
Reportedly the model George Washington Bridge was saved — though it was removed from the building and hauled off to an unknown location.
At least one passerby managed to scoop up a piece of the old set, citing the historic value the piece had.
CBS previously announced that when former "Daily Show" correspondent and "Colbert Report" host Stephen Colbert takes over the "Late Show" in September, the building will have undergone an extensive renovation, which will include a new set.
CBS bought the theatre in 1993, converting it from a 1,200 seat auditorium to 400 seats as well as making updates to accommodate the sound and lighting requirements of a daily television production. The theatre was again updated in 2005, when it was upgraded to high definition.
The theatre, which was completed in 1927, was previously known as Studio 50 after Letterman moved in, also played host to a variety of concerts, game shows and other productions over the years.
"The Rosie O'Donnell Show" temporarily originated from the theatre for a week due to a fire at its Rockefeller Center home. Notably, O'Donnell's set featured a background featuring models inspired by the New York City skyline, but with amusement park-style rides mixed in.
The current set has been used by the show for years, though it was not the original set used by the CBS version of Letterman's late night talker. The previous version of the set did, however, include a backdrop with a model cityscape.
Over the years, the set has been modified from time to time, including the removal of the faux window frames behind the interview area.
See more photos of the "Late Night" set demolition at the New York Post website.