Memphis station unveils storm chase vehicle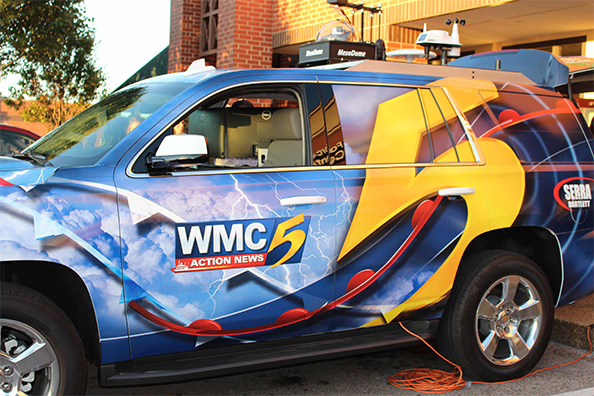 WMC-TV, the Raycom NBC affiliate in Memphis, Tenn., has rolled out its new weather vehicle — StormTracker 5.
Named after the station's weather branding, the Chevrolet Tahoe was, as you might expect, sponsored by a local Chevy dealer but retrofitted with a variety of weather equipment.
Inside, a Baron Threat Net system provides remote access to the WMC Action News 5 Million Watt First Alert Doppler Radar (generate your very own fancy radar name here) as well as other radar stations nationwide. The system also gives forecasters in the vehicle access high resolution street level mapping with the radar imagery as well as lightning and satellite data and storm tracking.
A mobile weather station is also mounted outside the vehicle and feeds live weather data to the meteorologist inside the Storm Tracker. The station includes a thermometer, rain gauge, an anemometer to measure wind speed, a barometer for air pressure and sensor to gauge humidity. Computers also connect with the weather center back at the station.
In addition to this gear, the station proudly points out the Chevy Tahoe also comes with chrome wheels, a navigation system and Bose stereo system (just in case the forecasters get want to Nae Nae while tracking a storm, we suppose).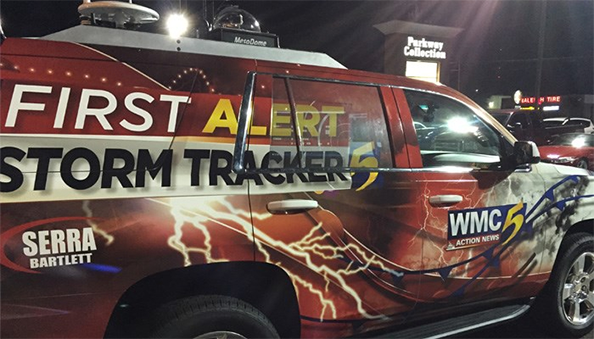 On the outside, the vehicle is completely wrapped in full color graphics that transition from blue on the driver's side to red on the passenger side.
The passenger side emphasizes the "First Alert Storm Tracker 5" branding and dealership logo against a background of lightning bolts and warm and cold front lines that weave along the side of the vehicle. On the opposite site, a large, stylized "5" occupies much of the space along with additional lightning and front line imagery.
NBC's affiliate in Dallas, meanwhile, recently rolled out a tracking vehicle as well.