Dallas station plugs 'Thunder Truck' in over-the-top promo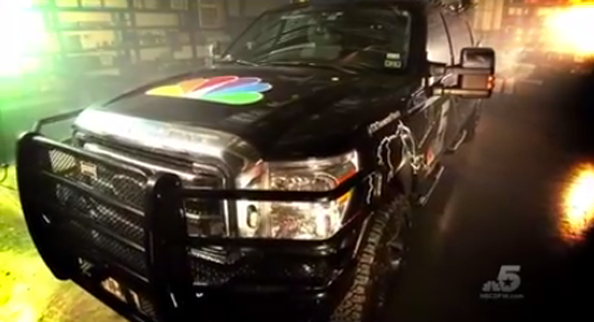 Our social media streams are abuzz with an over-the-top promo that started airing last month in Dallas promoting KXAS-TV's storm chasing vehicle dubbed the "Texas Thunder Truck."
The promo for the Dallas O&O features a rather pained rendition of the AC/DC song "Thunderstruck" that, of course, changes the lyrics to "Thunder Truck" and then continues to "on NBC 5."
Meanwhile, the footage in the promo includes dramatically lit closeup and wide views of the truck and its equipment.
At its core, Thunder Truck is actually a Ford F-250 Super Duty decked out with:
Onboard radar system.
Viasat's KA Band service has been mated to two Dejero's VSETS to provide the first dual path KA/cell bonded vehicle in existence.
A 2 Ghz microwave, a 35-foot mast, ultrasonic weather gear, Mobile Threat-Net software and wireless POV Cameras in every direction.
5KW Victron Inverter Power System (V.I.P Ultra+) combined with a MEPS System to give the truck dual/redundant power sources and an ability to generate 5KW of power at any speed or with the engine off.
Heavy duty antenna platform rated for severe weather operation.
Watch the promo here:
[field name=iframe]