Orlando station ventures outdoors for WX coverage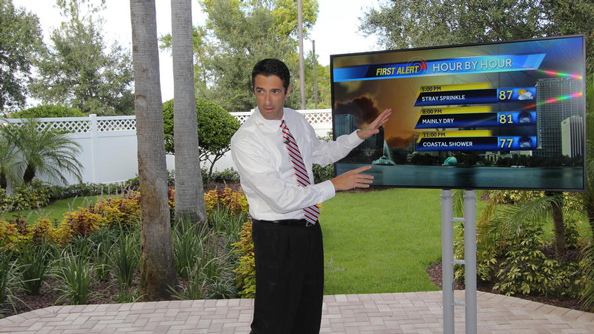 WESH-TV, the Hearst NBC affiliate in Orlando, Fla., has created an outdoor weather studio for its forecasters with the help of Z Space Creative.
The area, set up on a patio outside the station's building along Interstate 4, includes a covered area with freestanding monitor and camera.
At other times, the forecaster can step out from under the covered area and into the open air in the grassy area behind it.
Notably, however, the station doesn't use the outdoor setup for all forecasts.
Outdoor weather studios are not a new idea in TV news and various stations have dabbled in them in one way or another.
WNEP-TV, the Tribune ABC affiliate in Scranton, Pa., however, has a prime example of such a facility. While the station does have an indoor weather center that is equipped to be used as a mini-studio, all of its weather forecasts originate from what it calls "The Backyard."
The station's Stormtracker 16 weather forecasts, with rare exception during very severe weather, originate from the outdoor studio.
The Backyard, which is professionally landscaped by a local contractor, also features an outdoor chroma key wall inside a shed-like structure, which also helps hide monitors and lighting. Other features include a water feature and small pond, outdoor furniture and a flag pole, all of which show up regularly on air.