Q&A: Capturing Southern California at ABC L.A.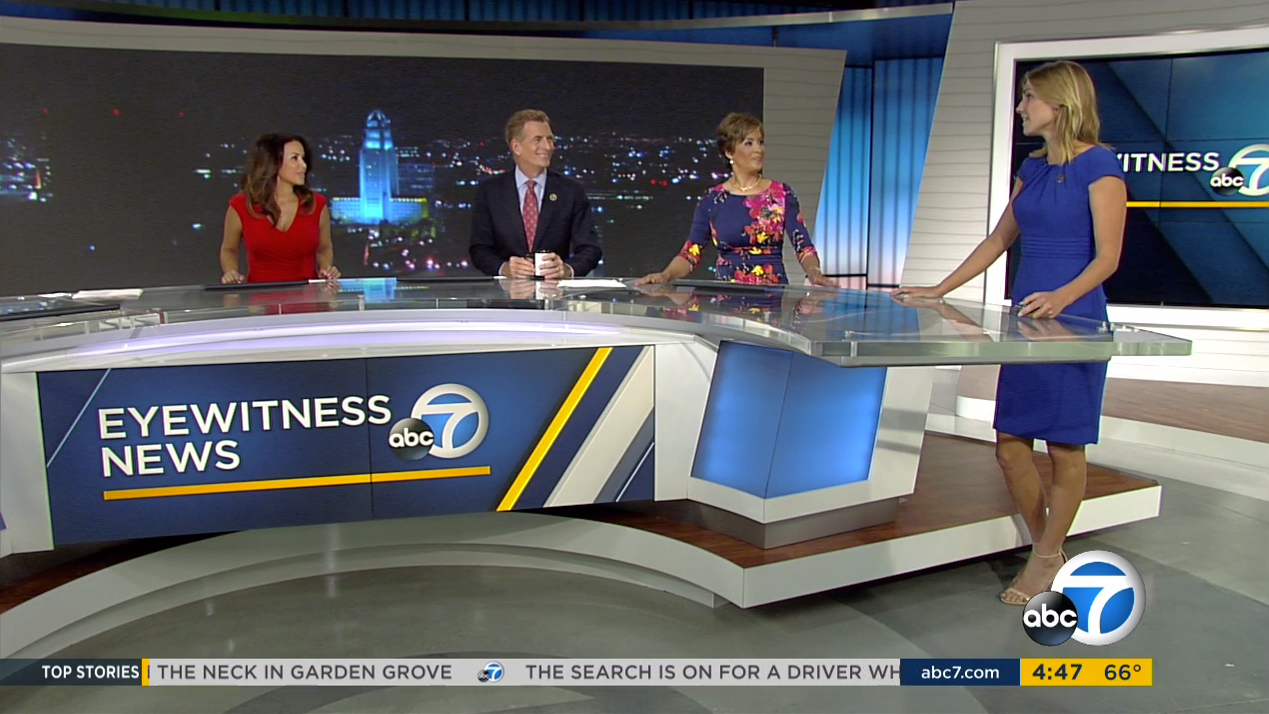 Subscribe to NewscastStudio's newsletter for the latest in broadcast design and engineering delivered to your inbox.
ABC 7 debuted a new studio from Broadcast Design International in November, marking a major upgrade for the ABC O&O that also included new on-air graphics.
NewscastStudio recently had a chance to speak with BDI's Tim Saunders about the design, which captures Southern California through some unique set design elements.
What were the goals/objectives of KABC for the redesign?
KABC-TV does a new set about once every 7 to 10 years, so there were a lot of goals and objectives on their plate.
Upgrading to the latest technology was big on the list but just as important was how they could use it to better illustrate stories to the viewers. Of course, to have a more updated contemporary and sophisticated look for the Los Angeles market was very important as well.
What inspired the design?
The design was inspired by the Southern California lifestyle.
Simple, clean design that combines flexibility in color changes without competing with the amount of digital video in the design.
This is a large studio, and the set features a lot of wide open space, so we designed it with enough height to complement the scale and give them the ability to use this great studio to the fullest.
The floor patterns are inspired by the "ABC Circle 7" logo and help to unify the sweeping arcs used throughout the set
What makes this project unique?
L.A. is a huge market that stretches from the beach to near desert regions and mountains.
We developed a custom "sand waves" wall covering that suggests this element and combined that with hints of wood tones to keep it warm.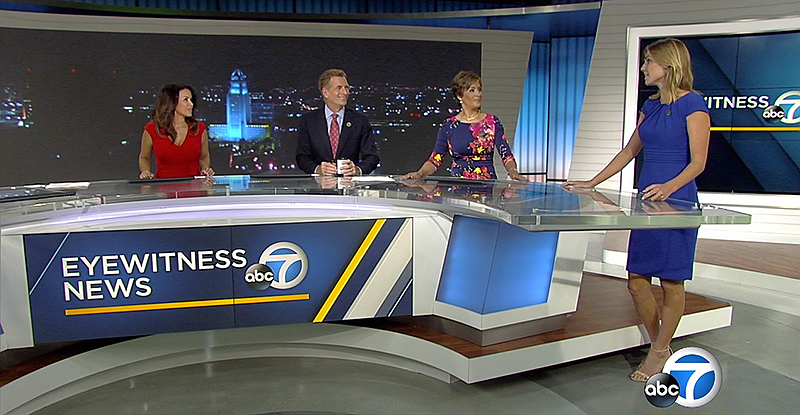 Much of the background is RGB lightbox that can emulate "blue sky" or sunrise/sunset sky colors. The overall effect is a bright and clean California feel.
Talk about the color scheme? The unique wall texture?
The overall color scheme was to be a neutral modern color pallet of cool grays and sand tones to support the many video display areas and color changing accent walls, with a splash of wood added for further interest and warmth.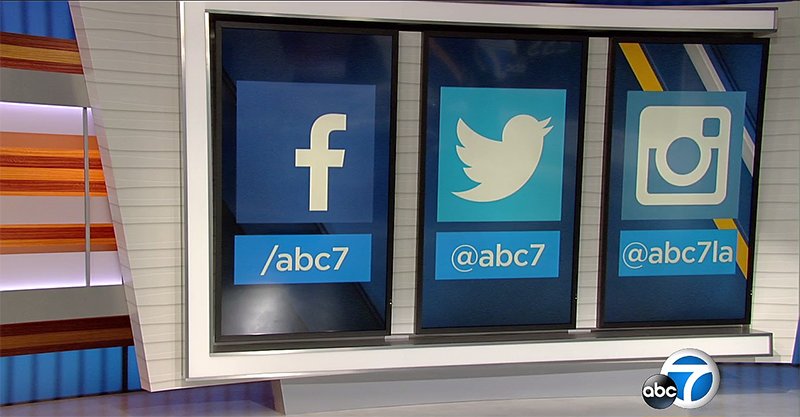 The custom designed and printed "sand waves" graphic was created and applied as finish to many of the set pieces creating a cool grey toned sand finish with perceived texture. It will receive and accept any color lighting directed at it.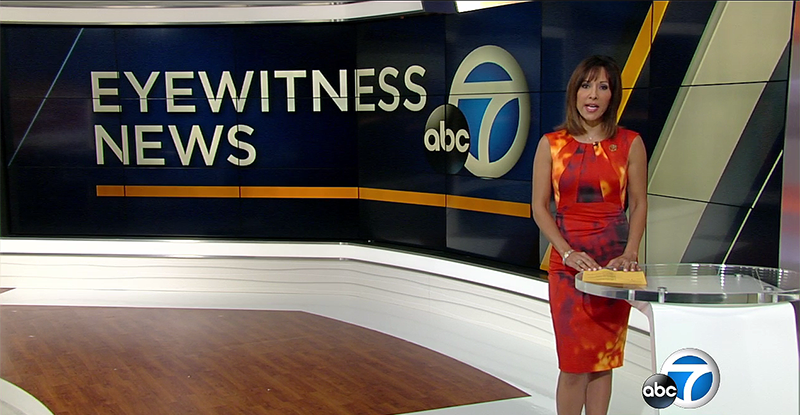 What technology was used on the set?
Primeview 2.5mm full video LED display that creates a 22' wide seamless image for main anchor background
21 screen 7×3 47" LCD Primeview videowall to the right of the anchor desk
The anchor desk features (2) seamless plasma 42" monitors and (3) color changing LED lightboxes
Stand-up area with 3 vertical 80" Panasonic monitors to the left of the anchor desk
Far left is another stand-up area with (1) 84" Viewsonic touchscreen monitor
The far background of the entire set is a surround of color changing LED lightboxes with a custom printed vertical pattern
LED color changing accent lighting throughout the design