'Dystopian' newsroom background confuses viewers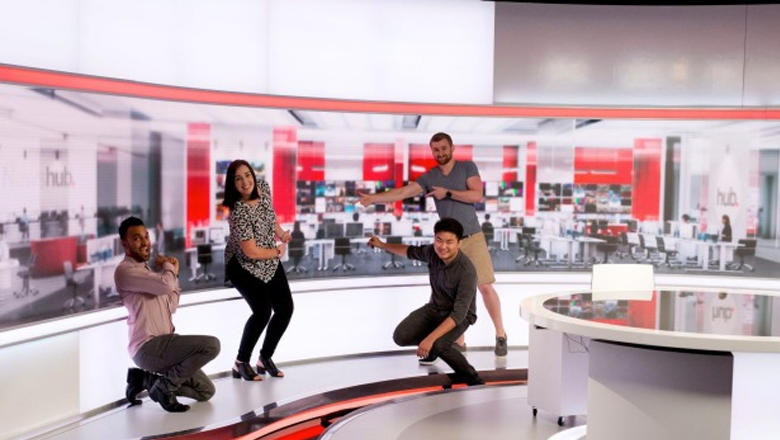 When "NewsHub" debuted on New Zealand's TV3, many viewers were quick to notice some odd things about the background behind the anchors — leading to a mystery big enough that at least two websites initiated rather thorough investigations.
For one, despite the constant flickering of monitors and what one would think would be a rather busy newsroom, there are only three people visible — all of whom are apparently oblivious to their surroundings.
Of course, the backdrop behind the anchors is actually a video loop of a 3D rendering projected on a video wall, also known as a virtual set extension. That becomes much more obvious when you view a wider shot of the set, as shown above.
However, some viewers were puzzled by the "dystopian" look of the background.
That lead to one New Zealand website opening an investigation into the mystery of the dystopian newsroom.
Notes the Spinoff:
The true Hub also has white desks and at least one wall of screens flicking on and off. It has NewsHub written on the walls in black and red lettering. But, unlike this bizarro ghostly newsroom, it pulses and bustles around the clock. People yell news things. The digital team hunch over their computers, tapping on keyboards. Jandal-clad radio presenters opine from their plush studio.

Besides, it's on ground level, whereas the studio NewsHub Live at 6 broadcasts out of is two floors underground. The only thing you'd see if you put a window in the wall behind Hilary and Mike is a rich seam of coal, or a chasm going straight to hell.
This lead to two possible conclusions:
The backdrop to NewsHub Live at 6 is taken from live footage of Mark Weldon playing Sims: Newsroom Expansion Set.
It's a projection of a dystopian future TV newsroom where the Internet has finally taken over, and the last remaining on-screen personalities remain obstinately slumped over their desks, refusing to debase themselves with tweets, waiting for a re-run of the glory days.
So what's the reason for using a faux — and idealized — version of the newsroom?
Well, the laws of physics are apparently at least partially to blame, according to a statement issued to Stuff:
"The background in all our bulletins is our Newshub… sort of. It's very closely based on our working area but isn't a live shot because for some reason there's a few concrete pillars (they hold up our building) – in the way."
The article goes on to mention that images of the people are actual staffers, taken from different teams. The network has several versions of the background with different people that can be switched out for other dayparts.