Tegna's Houston CBS goes 'in the round' with flexible new set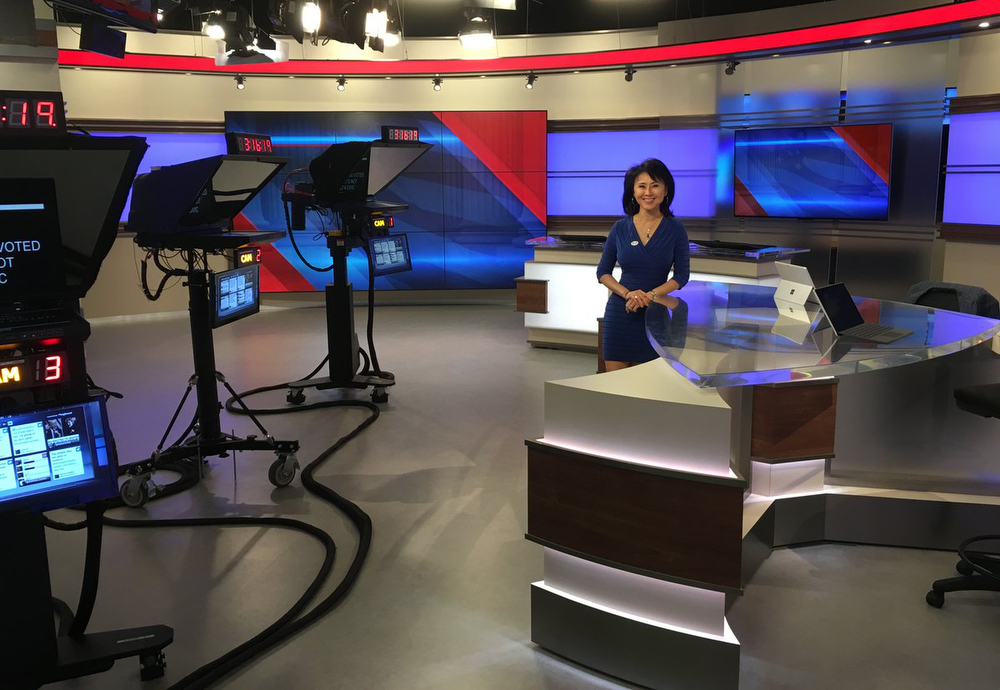 The new set at Tegna's Houston CBS affiliate combines a fresh, modern look that has been designed with maximum flexibility.
The scenic design for KHOU-TV, which first debuted on election day, strategically expands both the look and layout created for Tegna stations KING-TV in Seattle and KUSA-TV in Denver, which Jack Morton PDG worked on as part of a collaboration with the group.
"Tegna reached out to Jack Morton to discuss the next steps in the evolution of what a news studio should be," said Jack Morton PDG designer Joe Lamberta.
At the center of these sets is a unique "guitar-pick" shaped anchor desk that includes frosted panels separated by structural supports, a design that's meant to create a hub for news presentation while also removing some of the heavy visual barriers that more traditional anchor desks create.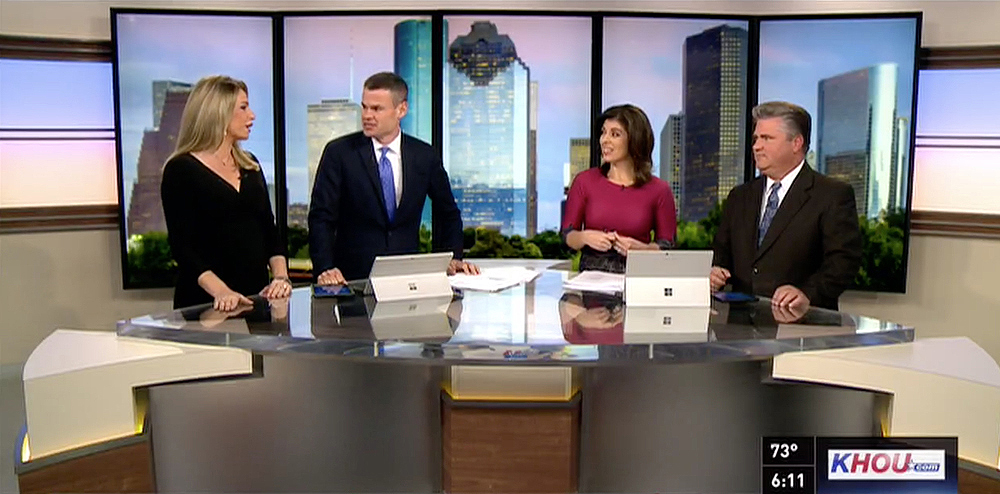 The desk design also allows stations to shoot in both traditional straight-on two and four shots while also accommodating up to six. In addition, the set is configured for a variety of other in the round shots for maximum flexibility and interactivity.
When creating the unique angular shape, a key portion of the strategy was to make interactivity between talent feel natural while also conveying inclusiveness when having conversations in the round.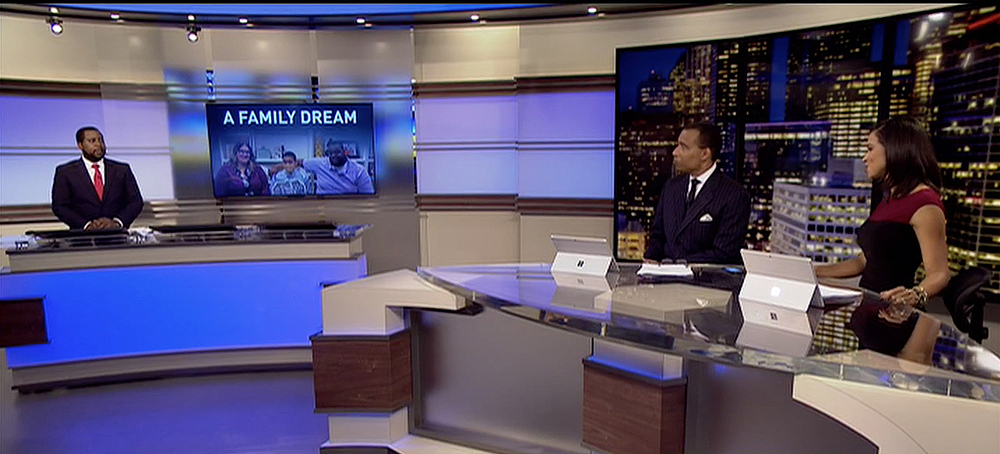 Special attention was made to avoid having these in the round and interview segments feel like traditional panels or Q&As.
The look, while carrying through trademark design elements, including the desk configuration, from the group's other stations, still allows for unique interpretations in each market.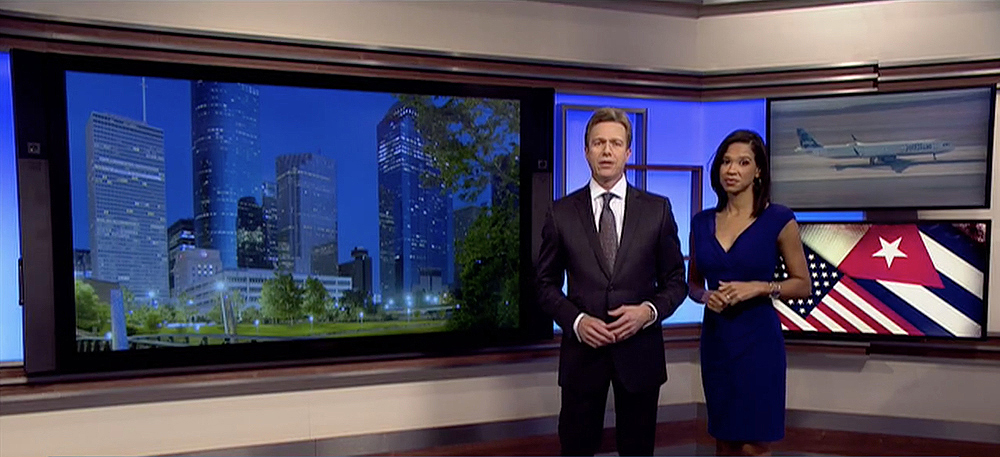 "We really tried to create an open space that wasn't branded or pre-marketed for any specific report or portion of the news," explained Lamberta.
Through technology and LED lighting the set is able to adapt to news events and dayparts.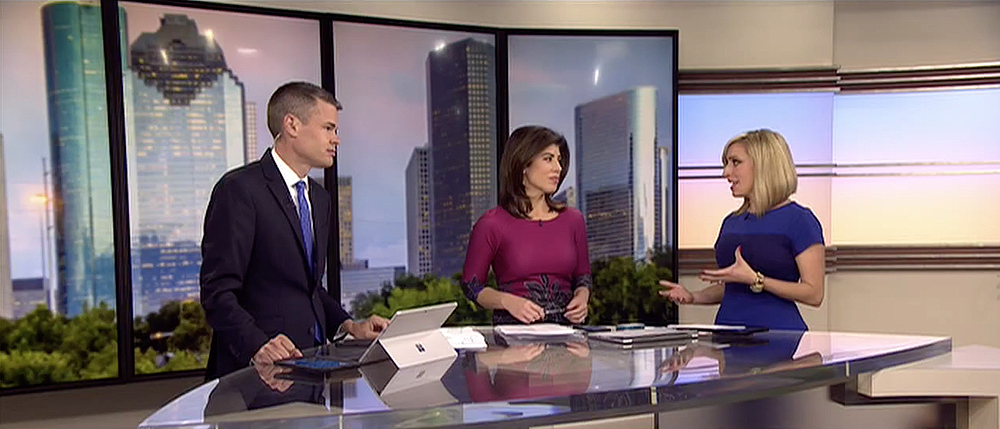 At KHOU-TV, Jack Morton PDG added color changing LEDs with a unique dual channel installation, allowing for the creation of gradients in the sets various wall panels. Through this effect,  the station has an added element of flexibility that builds upon the large, generous video walls that are used as both reference points and storytelling tools.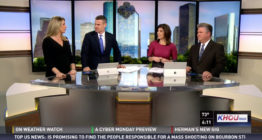 Set Design
KHOU-TV
View a gallery of this project…
The set at KHOU-TV was fabricated by Skyline Exhibits in Houston and lit by Mick Smith.
The latest in design, production and engineering
Subscribe to NewscastStudio for the latest delivered straight to your inbox.