For NBC's "Chicago Fire," the first of the now trio of shows that take place inside the same Chicago universe, production designer Craig Jackson was tasked with blending the look and feel for a real firehouse with the unique and ever-evolving demands of a fictional one.
The show's 2012 pilot was shot on location at the real Chicago Fire Department Engine 18 firehouse, located at 1360 South Blue Island Avenue at Maxwell Street.
Once the series was picked up for a full order, Jackson had the challenge of ensuring visual continuity while also making the show's recreated firehouse, known as Station 51 on the show, an efficient and flexible shooting space that could accommodate a wide variety of shifting storylines well into the future.
The show still shoots regularly at the real Engine 18, namely for exteriors and scenes in the "apparatus bay," the technical term for the space behind the large garage doors found in fire stations.
While Jackson and his team built an apparatus bay at its Cinespace Chicago Stage 12, the production team often prefers to take advantage of the sweeping city views that can be seen from the real Engine 18 building — something that isn't possible on the faux version back at the studio.
Before the real Engine 18 moved to the Blue Island site in 2006, it had occupied the same building since 1873, making it the oldest working firehouse in the city at the time. Meanwhile, its new building blends classic firehouse architectural elements such as red brick and carved stone with cleaner, more modern lines.
Jackson had the challenge of ensuring visual continuity while also making the show's recreated firehouse, known as Station 51 on the show.
Elements from this real life architecture were replicated on Stage 11, including the bold red-framed windows and industrial finishes.
Given that shooting needs to seamlessly jump between fictional and real-life environments, ensuring visual ties between the real and fictional firehouses is always key part of all of the firehouse scenes' production design and something Jackson always keeps in mind when designing for the show's firehouse scenes.
Exploring firehouse form and function
Jackson researched Engine 18 and numerous other firehouses across Chicago to explore architectural motifs as well as how spaces were laid out to serve the functional needs of emergency response teams.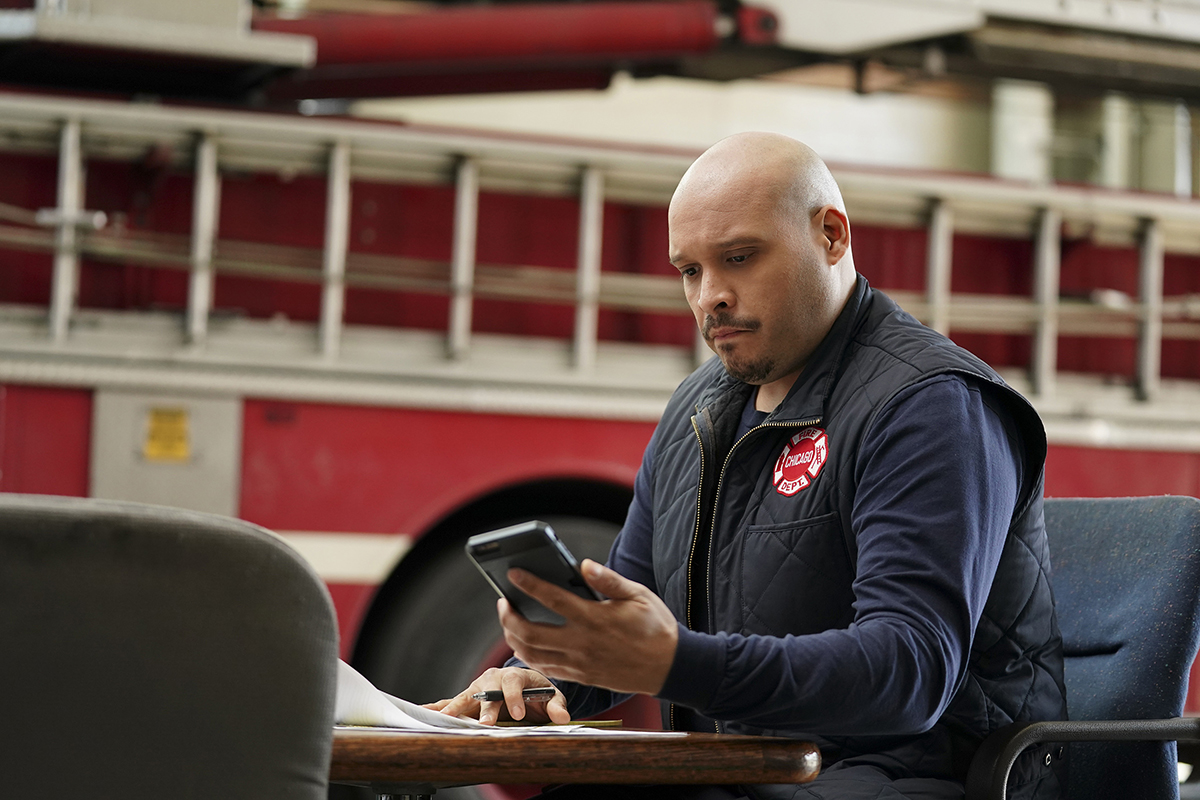 Photo courtesy Elizabeth Morris/NBC
This research also gave Jackon a glimpse into the everyday life inside of firehouses, which are unique in that they also serve as a combination of workspace and home away from home for firefighters.
"We wanted our characters' world to be a realistic expression of real firefighter's work environment," said Jackson.
Jackson also discovered that, in many real firehouses, multiple shifts share the same spaces, so the show's set decoration team's work had to find a delicate balance between creating spaces that feel lived in but not overly personal.
"I continue to be very pleased with our main firehouse set. We've had it for six seasons and have really had to do no significant alterations. I'm really proud that we got it so correct right out of the gate," said Jackson.
Getting personal
While most of the common areas and shared bunk room follow this approach, some smaller, more private spaces are filled with more personal items, such as Chief Wallace Boden's office and the semi-private sleeping quarters off the main bunk room for lieutenants Matthew Casey and Kelly Severide.
Some of the most personalized areas actually aren't rooms at all — but rather the firefighter's individual lockers adjacent to a bathroom with working showers and toilets that, when shooting isn't taking place, are conveniently labeled as not functional.
The lockers, meanwhile, are arranged in rows capped with tilework. Although they appear to be secured to the floors, just like the benches, they are actually movable to allow for directors to line up the perfect shot.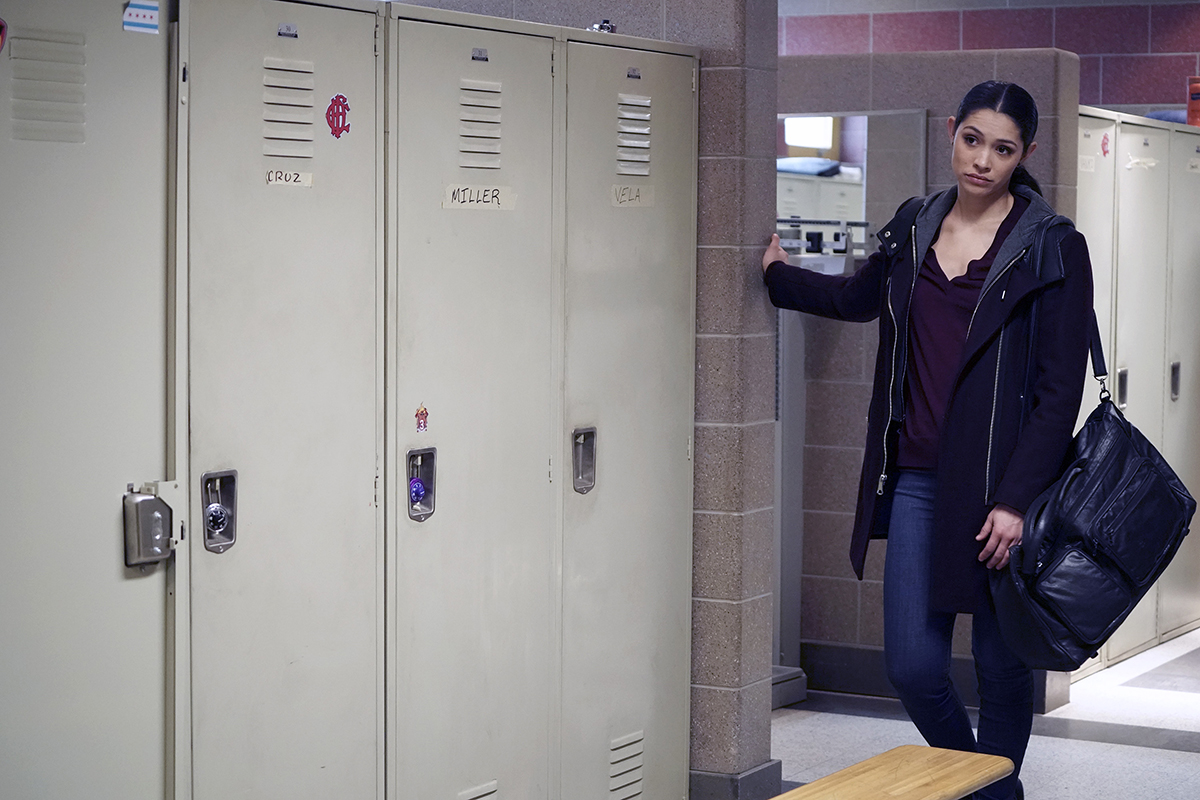 Photo courtesy Elizabeth Morris/NBC
Each person's locker is customized — right down to the masking tape labels with unique handwriting scrawled across it. The interior of the lockers are decorated with more personal items for each character, which often show up behind the action.
"Whether it's the magazines on top of a table or the pieces in a character's locker, everything is considered for its reason and rationale to be there. I'm lucky to have a very detail-oriented decorating crew," said Jackson.
There are also lockers that aren't assigned to a specific character, but that didn't stop the production design team's attention to detail; they filled out the labels on these lockers with crew members' names.
Changing things up
Since Jackson is ultimately tasked with creating environments that facilitate storytelling and character interaction, some strategic changes were made to the fictional Station 51's interiors when compared to its real life counterpart in Chicago.
"There was extensive discussion with the writers and show creators about what spaces would be needed for the various characters, how the space should flow from area to area, and how the action would play out," explained Jackson.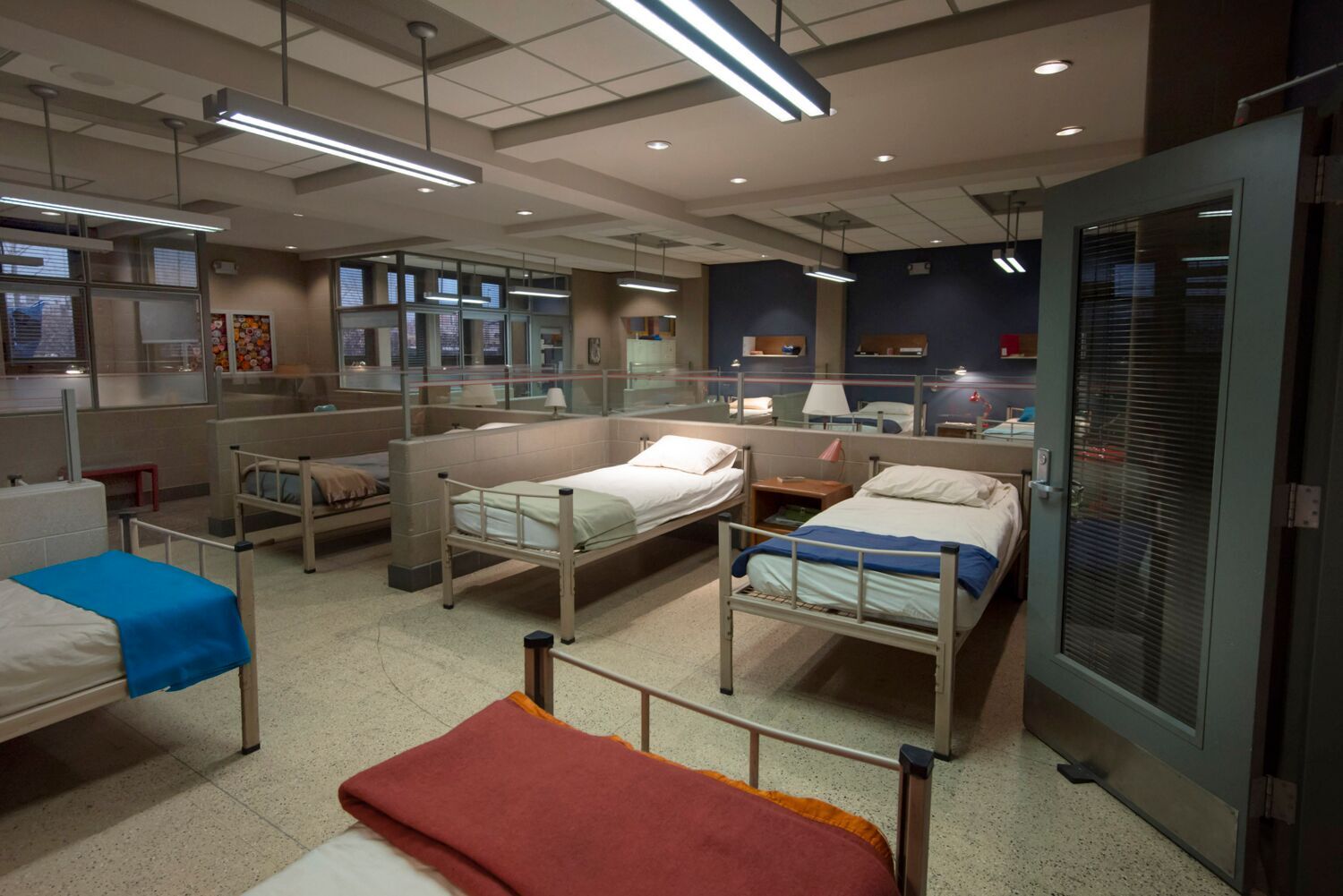 For example, the bunk room in the real firehouse has enclosed sleeping areas for firefighters, but the "Chicago Fire" version features low dividers topped by glass panels, a design decision that better accommodates dialogue-heavy scenes and also allows for wider, deeper shooting.
The glass motif is even continued into the more private, enclosed sleeping quarters, which adds to the sense of depth and adds the flexibility for scenes here to be intimate or interactive.
The practical needs of allowing enough room for both cast and crew also triggered changes in other prominent areas of the firehouse set — including enlarging the common area and hallways. The control tower, which overlooks the apparatus bay, was also expanded to accommodate more dramatic views and interaction between the two spaces, while the restroom entrances were redesigned for better flow.
"… everything is considered for its reason and rationale to be there. I'm lucky to have a very detail-oriented decorating crew"
During the shooting of the pilot, the production actually tweaked some of the layout of the real firehouse — such as adding a kitchen area, a change that ultimately made its way into the studio version of the firehouse.
When transitioning to the stage, Jackson made a myriad of subtle adjustments, but one in particular has carried through and helped set the tone and style of the show.
"We made a concerted effort to warm the place up and make it more friendly," explained Jackson.
This was accomplished by adding lighting and changing and adding to the wall finishes and decoration.
"All this combined to give our stage set a depth and richness that we didn't get at the actual location," said Jackson.
In some cases, Jackson's designs actually has inspired storytelling — take, for example, the small laundry room originally built as a background element and a simple way fill an awkward void in the set.
"I never thought it would get much use. Yet I'm always pleased when our writers write scenes to it. A recent script had our two medics just sitting on the washing machines talking to each other and I was so pleased to have it take place there," explained Jackson.
The finishes in Station 51 combine a mix of commercial-grade flooring, tile and paint meant to reflect a firehouse's need to stand up to everyday use. Despite that, the show's craftsmen carefully aged places to emphasize the fact the space is a functioning working and living space that takes a lot of wear and tear.
Not your typical firehouse
The "Chicago Fire" firehouse also comes with some nifty features that aren't found in the real life firehouse — but are instead designed around the unique needs of lighting and shooting in the space.
For example, many of the glass panes on the "Chicago Fire" set pivot to help prevent reflections or glares, and walls can be moved out of the way allow for better shooting angles.
Also, a "wall of fame" near the control tower showcases the portraits of high-ranking fire department officials — but one face among the framed prints might look familiar to diehard fans. Executive producer Dick Wolf has been installed as fire commissioner.
Jackson also discovered that, in many real firehouses, multiple shifts share the same spaces, so the show's set decoration team's work had to find a delicate balance between creating spaces that feel lived in but not overly personal.
Station 51 has another quality that real life fireshouses don't have: the ability to grow and expand beyond its existing floor plan with just a few lines in a script.
For example, Jackson and his team added a turnout, or gear, room after the initial build, but took special care to ensure it seemed like it had been there all along.
The sets also have "hidden" opportunities for future growth built in, such as the recent work area for Casey that was added behind a glass window and door that had been there all along — previously the door led nowhere.
"I always try when doing permanent sets to think ahead to what the writers might want," said Jackson.
Casey's apartment, for example, has no closets or bathrooms, yet there have been openings in the design from the beginning to include them.
Jackson and the rest of the creative team also think ahead beyond the immediate needs of the season's current scripts.
"We've toyed with adding a gym and recreational room to our standing set and designs for that were drawn up several seasons ago. It took a little different architectural direction than the rest of the set and I've always wanted to add it," said Jackson.
The production design team also would like to create better officer's quarters — something that has been intended since the firehouse stage was built.
The burn stage
Of course, a show about a fire and rescue squad wouldn't be complete without fire.
Not surprisingly, "Chicago Fire" frequently features scenes inside burning buildings — which requires a flexible, dedicated space known as the "burn stage."
This soundstage, Stage 23, has been specially outfitted for shooting fire scenes with a myriad of safety and ventilation systems added to ensure the safety of the cast and crew.
Most of the flames shown on the show are real — very little is added in post, says Jackson.
Filming on the burn stage can be challenging. It requires frequent breaks to ventilate and cool down the space, and the actors wear real firefighting gear for both a realistic look and protection against the very real flames and heat.
In addition, the show's firefighter actors underwent firefighting training so they not only can carry out firefighting techniques accurately but also so that they are familiar with appropriate safety precautions.
Ultimately, the burn stage is probably one of the most flexible elements of the production design for "Chicago Fire" since scripts call for a variety of homes, offices and other spaces to be set ablaze.
"I realized early on that our fire and rescue scenes would involve a lot of level and height changes," said Jackson.
The burn stage is dominated by an 11-foot high steel "mezzanine" with a second level above and adjacent three-story structure.
The base structure of the mezzanine and connected shaft allows the team to avoid having to build large structural supports from scratch for each scene — an especially important strategy given the sometimes tight set build turnaround deadlines and since most of the temporary burn sets are essentially destroyed by the time filming is complete.
"We use the structures in combination in a variety of ways. Often we build multi-story staircases leading up to the second level of the mezzanine," explained Jackson.
Once, for example, the team built a stairwell leading to a hotel hallway and meeting room.
This chamber has also been converted several times into an elevator shaft while larger warehouse or office sets are constructed on the lower mezzanine level with the second level used to house support structures for collapsed ceilings and upper floors that need to intrude on the set below.
"This year, we built out the lower level as a parking garage that we had to see both before and after a structural collapse," said Jackson.
For these scenes, the upper level served as a structural support for a series of faux broken concrete slabs that hung above the floor below, while allowing the show's effects crew to drop debris and dust on the action below.
Fireproofing 'burn' sets
"Burn" sets, whether on location or on the burn stage, also have to be built differently than traditional sets used by television production.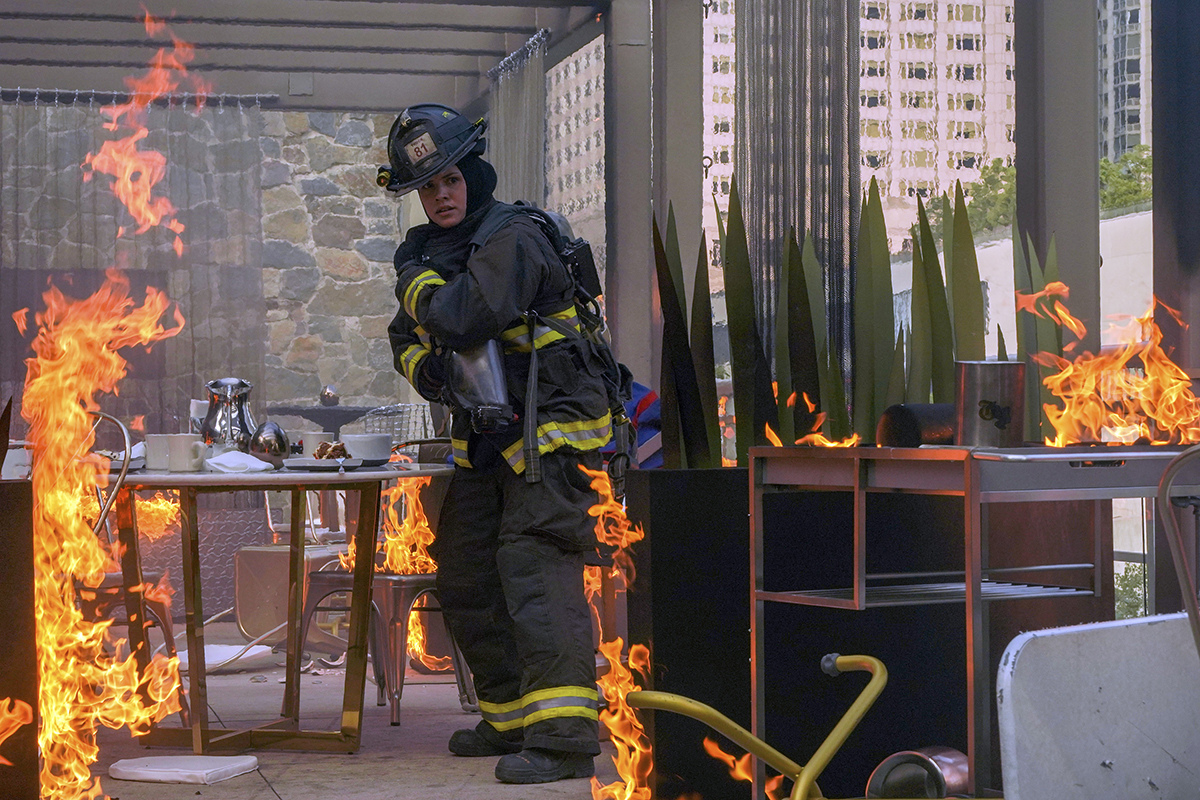 Photo courtesy Elizabeth Morris/NBC
Sets built for interior burn scenes typically are designed around hidden gas lines tucked behind baseboards installed by the show's effects team. These can be turned on to fuel real flames that shoot up the walls.
Somewhat ironically, all of the "burn" sets also have to be fireproof or fire resistant — both for safety reasons and to accommodate multiple takes in order to capture all of the action.
"Whereas traditional sets are built with lumber framing and luan wall surfaces, our fire sets use drywall and metal studs as a base layer," explained Jackson.
He and the build crew also have to use fire resistant floor and wall finishes as well — meaning they turn to cement products and plaster finishes frequently. For example, brick walls on many sets are created using paper or plastic brick "skins" to give the illusion of brick, but on "Fire," they have to be hand plastered in order to stand up to the heat and flames.
Because of the intense heat built up, sets for fire scenes need to be designed to vent out heat and smoke.
The set dressing department is also tasked with finding fireproof or fire resistant pieces. Almost everything brought into the sets is metal or in some other way non-combustible, explains Jackson.
"Once you start to eliminate paper, wood, all plastics, solvents, etc. from your design repertoire, it gets pretty challenging. We have quite a few tricks up our sleeves," said Jackson.
The world beyond
Although the firehouse is the largest and most intricate set "Chicago Fire" uses, it's by no means the only one.
In fact, Jackson and his team keep their creative juices flowing thanks to the constant flow of "swing sets" that need to be created to accommodate settings — often quite adventurous ones.
For example, for an episode in Season 5 the team was tasked with building a Y-shaped tunnel with vaulted ceilings and rail tracks inspired by Chicago's historic tunnels. The set, which also integrated real flames, ended up looking great on camera with depth and layering playing a key role, explained Jackson.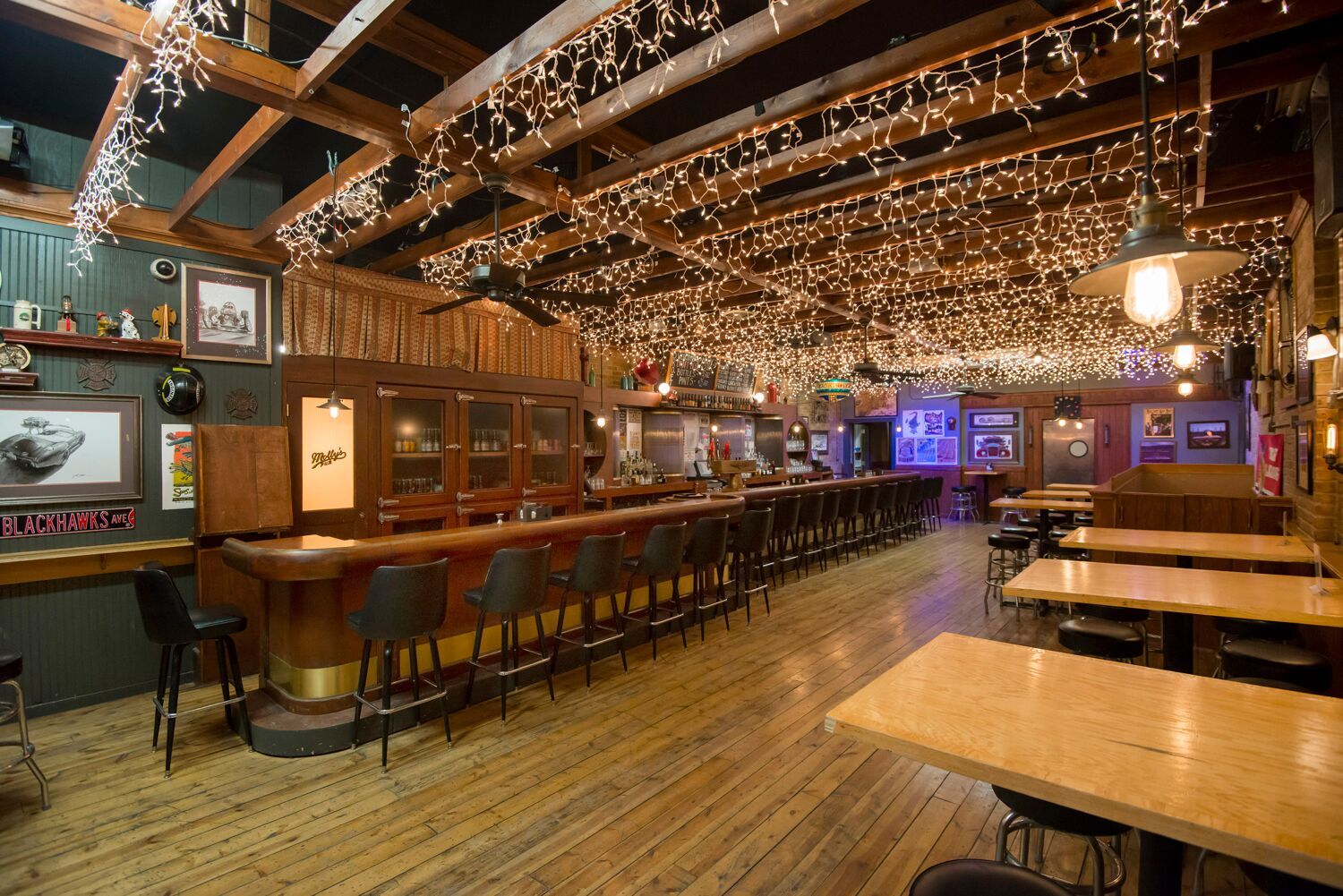 Another centerpiece of the "Chicago" universe is Molly's, a bar where characters from across the Chicago franchise have showed up.
Originally filmed on location at Lottie's, a pub in Chicago's Wicker Park, the studio version was, like its firehouse counterpart, widened a bit when producers decided to build their own version — complete with a faux exterior — on a soundstage.
Although the familiar holiday lights on the ceiling were kept, Jackson continued the strategy from the tweaks he made to the firehouse by switching out some wood tones for ones that gave the space a warmer feel.
The set also replicates the exposed brick, aged and worn wood and glass cabinets found in the real version — a look that required careful craftsmanship to recreate.
The bar's taps and much of its equipment are real — and even include three varieties of "Milinac" beer — named after the show's special effects coordinator John Milinac.
For a pivotal stabbing scene in Season 4, a kitchen was added next to the Molly's set, but it has one unique feature: It splits in two right down the middle, allowing it to be wheeled out of the way when not in use.
The 'Med' connection
Incidentally, "Chicago Fire" also has a miniature version of the "Chicago Med" Gaffney Medical Center tucked in behind the fire station set.
The shows take place within the same universe and frequently victims of fires or other disasters are taken to Gaffney.
However, with all three "Chicago" shows often in production at the same time — making sharing sets challenging — Jackson and his team opted to build a smaller version of the hospital for its own use.
What started as a single MRI room grew into a patient room, hallway, elevator bay, nurses station and waiting room tucked around the corner from the apparatus bay set.
The space has also been reworked as multiple patient suite and emergency room bays and a recent storyline called for it to be overhauled into a physical therapy space.
"Once we had our 'Med' sister show, we thought we'd never use it again," said Jackson. "Yet it's something we continue to get an amazing amount of mileage out of."
'Nothing fazes me'
With the wide variety of sets needed, many of which need to be designed to be "destroyed" or shot in various stages of destruction, no scenario the writers dream up really fazes Jackson anymore.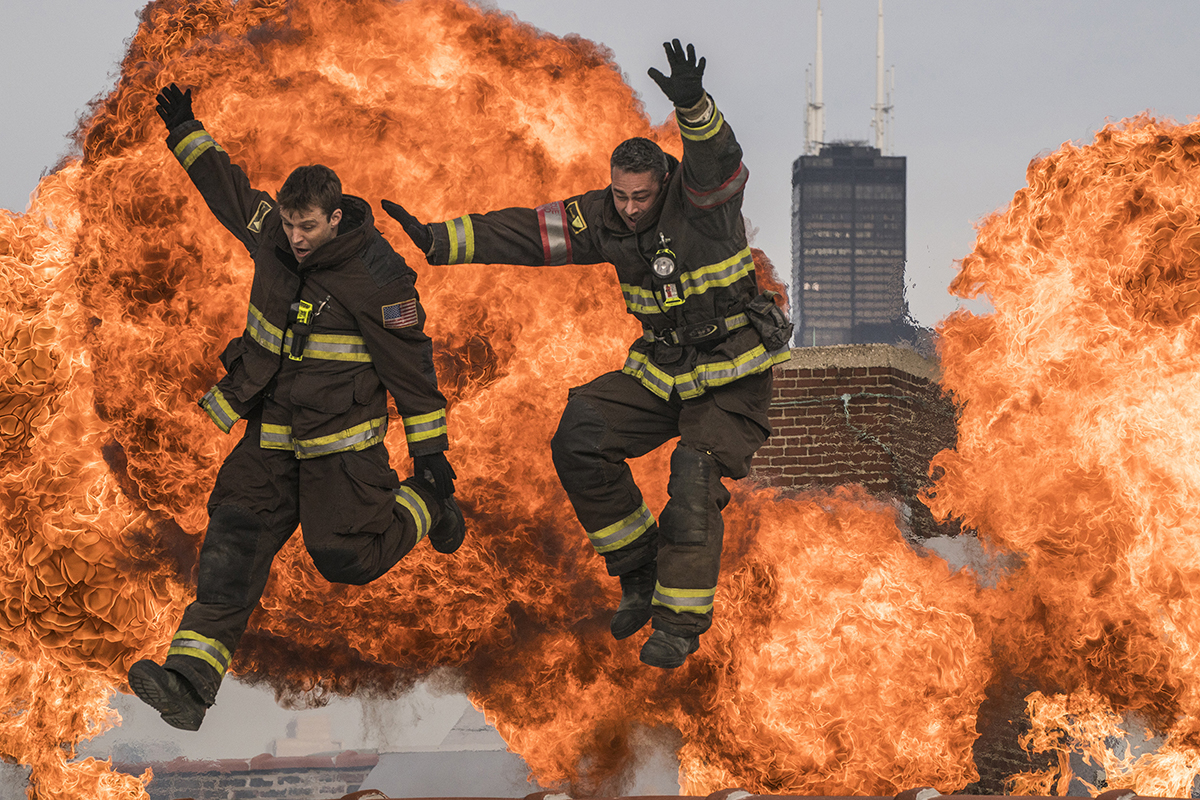 Photo courtesy Elizabeth Morris/NBC
That said, he's faced some interesting challenges over the year, including building an on-location four-story collapsed hospital façade used during the second-season episode that served as a backdoor pilot for "Chicago Med."
This project involved a large structural steel support structure approximately 50 feet high, 60 feet wide and 30 feet deep with an intricately carved destroyed brick and stone façade.
Scripts called for actors and background on all levels conveying a dangerous, precarious situation yet the set had to be safe and structural for the cast and crew.
The scene also required a debris pile in front of the building with enough wreckage for 20 firefighters to climb over and comb through. All this had to be built and painted in a very short time period under freezing weather conditions outside.
"The technical challenges and the time frame, as well as the visual detail and layering required, was quite daunting," said Jackson. "We had an extensive amount of debris and rubble to design, construct and install. I have a very talented, fearless and dedicated crew, and they pulled out all the stops on this set. The end result was amazing and very believable. I'm always pleased to have the real firefighters we use as background on our sets come up to me and tell me how real it feels to them."
Photos by Dak Dillon and Elizabeth Morris/NBC