'Morning Joe' gets new backgrounds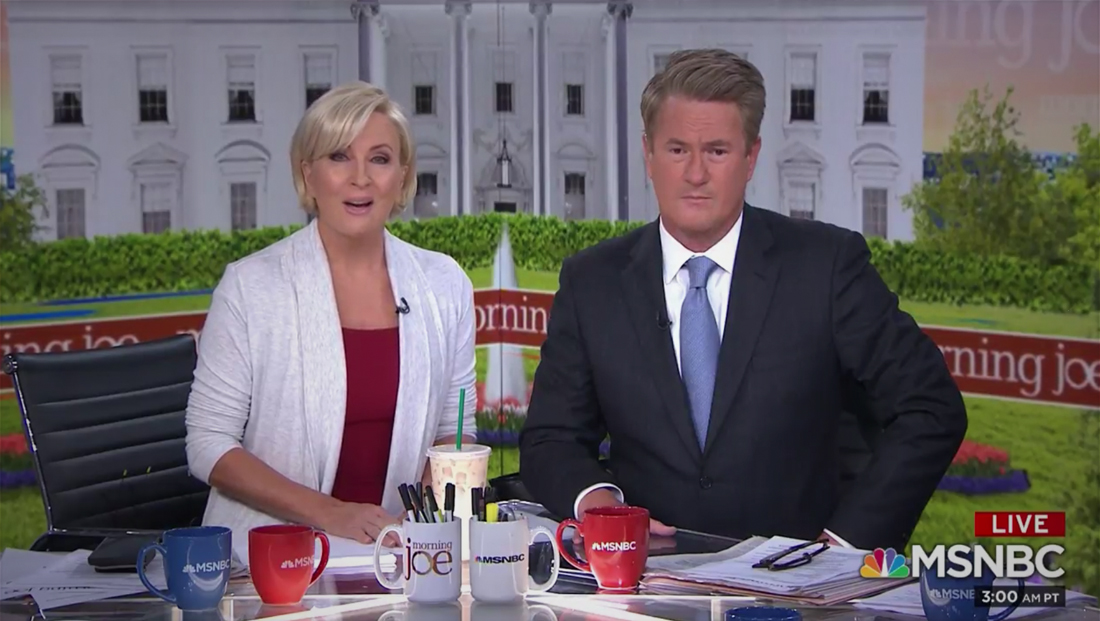 This story has been updated with revised imagery and to reflect changes since the April 29, 2019 debut of the new look.
MSNBC's "Morning Joe" updated its video wall backgrounds (at least some of them) on Monday, April 29, 2019.
The new look retains the illustration of the White House behind the primary anchor position on the MSNBC side of Studio 3A, but adds more greenery, a gradient sunrise and more of the show's logo scattered across the sky.
The show's logo also makes a more prominent appearance in a red band rather than the more subtle "frosted" effect used before.
In addition, NBC has added animated red and blue lines "running" across the White House lawn and the flowers around the fountain on the north lawn of the White House have red and blue flowers "planted" around it.
When both anchors Joe Scarborough and Mika Brzezinski are in studio, the show typically places them in the corner of the perpendicular video walls the network installed in July of 2016.
However, on April 29, both Scarborough and Brzezinski were both anchoring the show remotely, as is common, so the updated backgrounds only appeared behind in-studio guests and guest co-hosts.
Also as is common, it was not immediately apparent where they were anchoring from. Scarborough and Brzezinski frequently anchor from the road due to both personal and assignment travel.
MSNBC would later update the backgrounds used behind the pair when on the road — Brzezinski typically appears in front of a similar version of the White House used in-studio while Scarborough has the Capitol dome behind him.
The network also updated the graphics used on the numerous other video walls and panels in 3A to include other Washington landmarks against the yellow to pink to blue sunrise.
Some of these include the Supreme Court building and the Jefferson Memorial.
Before the pair got married and went public with their personal relationship, insiders say that the pair would often travel together and use the same local broadcasting facility, but would not appear in the same shot together, supposedly so that it wasn't apparent they were in the same location.
Instead, each would appear to be sitting in front of a different background — typically created using a video panel — and would appear in a two box on screen that suggested they were in different locations.