'PBS NewsHour' debuts new anchors in same home (for now)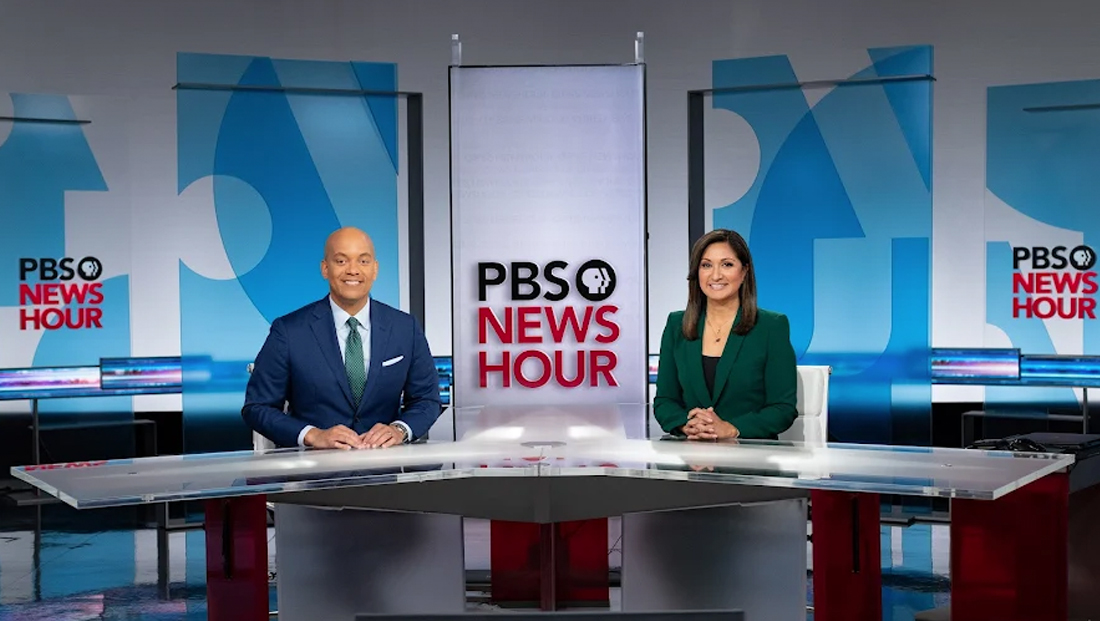 After legendary journalist Judy Woodruff signed off from "PBS NewsHour" on Dec. 30, 2022, new anchors Amna Nawaz and Geoff Bennett took over Tuesday, Jan. 2, 2023.
The pair used the same set that Woodruff used, thanks, in part, due to the fact that the main anchor desk was originally designed to accommodate two anchors seated on either side of the large, vertical video panel used to display both branded and topical graphics.
The set was originally installed in 2015, was designed by Eric Siegel (who recently worked on WTTW's new set in Chicago).
At the time, Woodruff and the late Gwen Ifill debuted as co-anchors.
Woodruff soon found herself using the desk solo after Ifill died from cancer in November 2016, and the set has remained largely unchanged.
"PBS NewsHour" is produced by local PBS member station WETA, which has two key facilities in the metro Washington, D.C. area.
One, located on S. 27th Street in Arlington, Virginia, is home to the production facilities for "NewsHour" and "Washington Week."
The station also has a newer facility on Campbell Avenue in Arlington, that will be expanded in 2023 to add three studios, tentatively designated A through C.
The new studios will be built in place of a courtyard and also include additional space in three additional levels above, allowing "NewsHour" and "Washington Week" to move into the same location as other WETA staffers, along with key technical upgrades.
Once the building is complete, "PBS NewsHour" will get a new set, according to sources.
I'm proud to partner with @IAmAmnaNawaz and the @NewsHour team in building on the foundation set by Robert MacNeil, Jim Lehrer, Gwen Ifill and Judy Woodruff. Join us weeknights on your local PBS station, online and streaming. pic.twitter.com/4ZeXP0cmCv

— Geoff Bennett (@GeoffRBennett) January 2, 2023
Meanwhile, Nawaz and Bennett hit the air Jan. 2, 2022 despite it being the observance of the New Year's Day holiday.
Some minor changes were made to how the broadcast is shot — with the pair standing on the opposite side of the studio standing behind a secondary desk used for interviews and other segments to introduce themselves and say "… on the 'NewsHour' tonight…" before switching to the show's tease headlines.
Previously, Woodruff was shown seated at the anchor desk with the show logo over her shoulder.
After the teases and animated open, a similar wide view of the space, but with Nawaz and Bennett at the anchor desk shuffling papers was shown as the announcer segued into underwriting announcements. During Woodruff's tenure, a wide view of home base was shown with Woodruff seated at the desk at this point.
What happened to Judy Woodruff?
Former "PBS NewsHour" anchor Woodruff retired Dec. 30, 2022, as previously announced.
Woodruff, 76, had been the primary co-anchor of "NewsHour" since 2013. She had previously worked for the predecessor of "NewsHour" as well as "Frontline" from 1983 to 1993.
From 1993 she moved to CNN, where she hosted a variety of programming, including "Inside Politics," "CNN WorldView" and others.
She left CNN in 2005 and appeared on Bloomberg Television on a monthly broadcast from 2006 to 2013, though that arrangement did not prohibit her from taking on other TV projects, including a series for PBS, parts of which aired on "NewsHour." She would eventually become a special correspondent for the show, before becoming one of three regular rotating co-anchors alongside Jim Lehrer before he retired in 2011.
She then anchored the broadcast until 2013 when she and Ifill were named permanent co-anchors and managing editors of the newscast, creating a dual female-female format that was rare in network TV at the time.
Woodruff is not leaving "NewsHour" entirely. She will continue to contribute to the broadcast with a special series called "America at a Crossroads" over the next two years.
She will also contribute reporting on those living with disabilities, inspired by her son Jeffrey, who was born with spina bifida in 1981. Since an operation in 1986, he has lived with damage to his brain and uses a wheelchair.
The latest in design, production and engineering
Subscribe to NewscastStudio for the latest delivered straight to your inbox.