San Francisco station debuts messy new site on Wix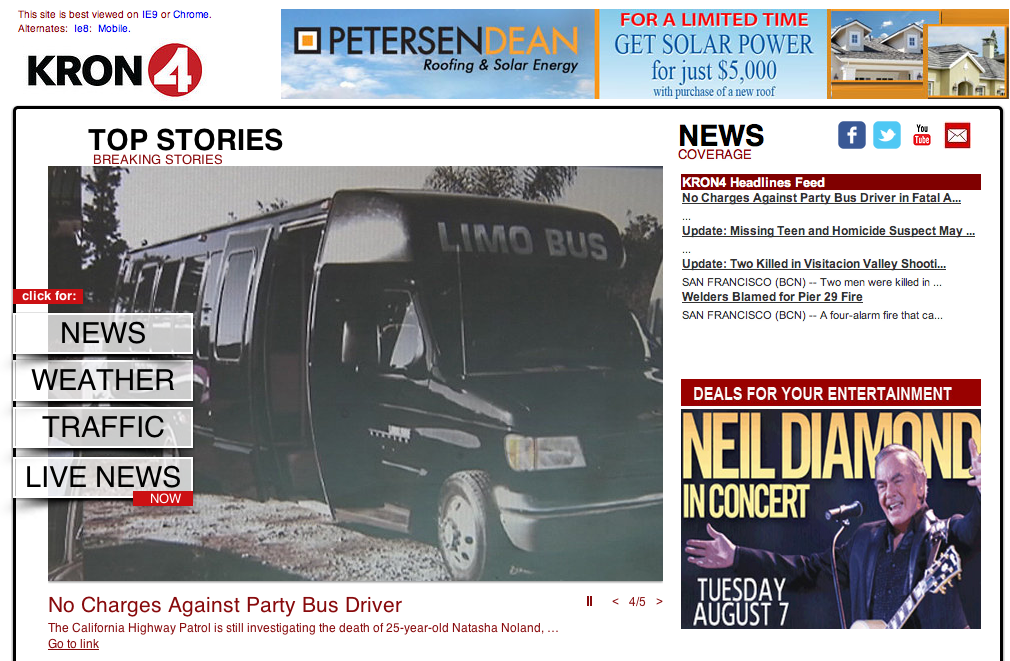 KRON-TV, the MyNetworkTV affiliate in San Francisco, recently launched a new website that uses consumer and small business website builder Wix as its backbone — and results aren't pretty.
Wix is a popular website building system commonly used by photographers, artists, musicians, individuals and small businesses that offers a no-coding-needed way to build a website.
Marketed primarily to novice website owners, the service includes built-in themes, social media widgets, blogging and stock photos, fonts, music files, buttons and other elements site creators can used to build their sites.
As of this writing, KRON-TV only appears to use Wix for certain portions of its site, mainly the homepage and section fronts. These pages exist under the clunky "www.new.kron4.com" subdomain, while story pages appear to hosted on another system directly under the "kron4.com" domain.
KRON-TV's move to utilize Wix is interesting given Wix's typical user profile. Wix doesn't publicly market its service as a content management system capable of handling the demands of a newsroom (which could be why KRON-TV isn't using it to host its story pages).
The integration of the two systems seems sloppy. Links randomly open in new windows without any real rhyme or reason and pages on the Wix servers sometimes load strangely, with flashes of content loading in seemingly random order.
Clicking on the station logo in the upper left sends users through a redirect page entitled "Page has moved" before presenting the homepage.
It's also possible to find pages that appear unfinished, such as the "Contests" page that includes the headline "You are editing the contests site" and a lone red button labeled with "My button."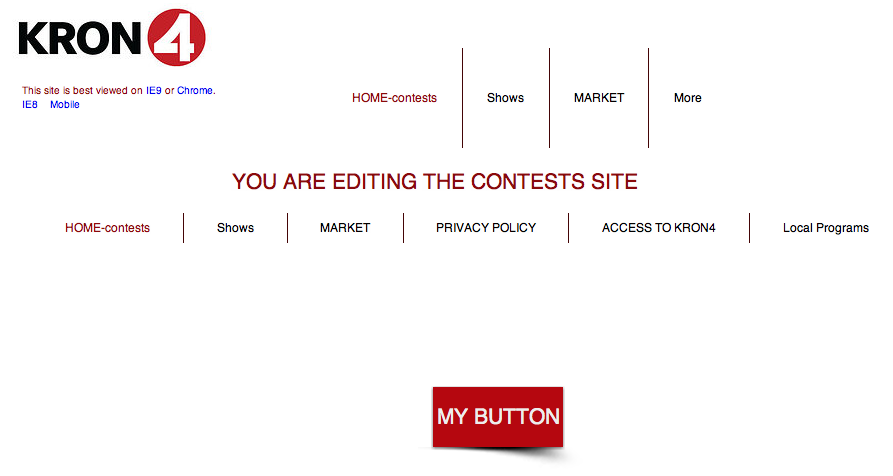 In addition, many of the pages seems rushed and poorly thought out, often with just a small video embed and a comment box floating next to it, with little other information or explanation.
The site also uses non-user friendly URL structures (the homepage is at "http://www.new.kron4.com/#!home/mainPage" and the live Gold Gate Bridge camera is hosted at "http://www.new.kron4.com/#!Golden Gate Bridge Camera/c1r7h"). These types of URLs are not only difficult for users to remember, but also don't illustrate a clear site structure. They could also cause issues with social media sharing applications and are not ideal for search engine optimization.
The move could signal a new strategy for Wix, similar to that taken by WordPress with its VIP service that CBS selected to power its local sites in 2010 and Local TV switched to earlier this year.