ABC Chicago updates duras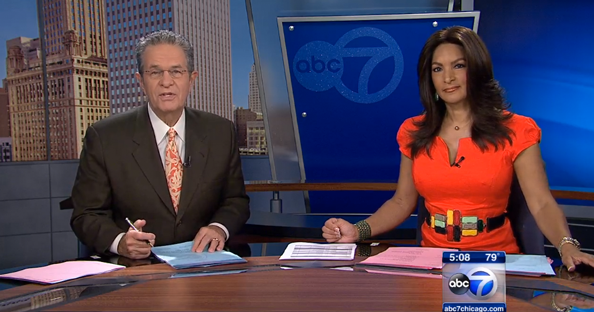 After vacating its streetside studio late last week for some lighting updates, WLS-TV in Chicago is back up and running in its old home — with some subtle changes to the set as well.
Based on an unscientific comparison of "before" and "after" video clips, the lighting does seem to be improved — with anchors appearing a bit more vibrant and with bit more backlighting on their hair and shoulders.
More noticeably, the station also swapped out the set's two main duratrans — replacing the one in the far wall with a colorized cityscape and the one camera right with a less cluttered version of the blurred blue image that subtly incorporates the station's "circle 7" logo.
Previously, WLS-TV used a rather muddy cityscape dura for its late newscast, while other newscasts used a design that combined blurred monitors and light bursts.
It's interesting to note that WLS-TV only used Chicago-centric imagery on its set backgrounds for this news broadcast — despite all of its competitors doing so during all dayparts. Now, the station seems to have joined that trend.
The new dura, meanwhile, appears a bit too bright and sharp on camera.
It would have been nice to see WLS-TV replace the duras with either rear projection screens or flat panel video arrays like those used at its sister station WABC-TV in New York. The framed dura camera right seems especially suited to become a video wall — and that would have given the station much better flexibility in changing the look of its set.
Last October, WLS-TV switched back to using the "Eyewitness News" branding after abandoning it in 1996. At the same time, the sation introduced a new graphics package. Meanwhile, earlier this year the station rebranded its weather as "First Alert Weather," which also included updating the weather graphics with a new logo.