Chicago ABC updating studio lighting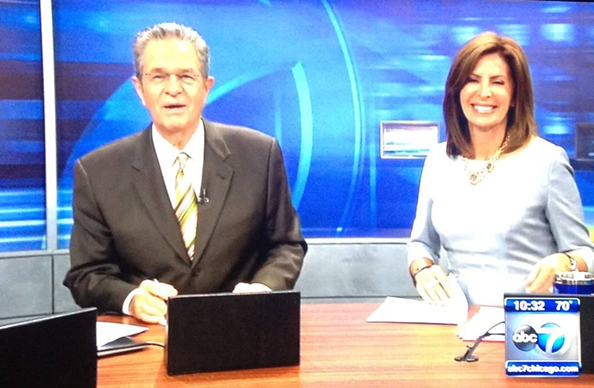 Chicago O&O WLS-TV has moved its newscasts to a temporary set as work is done on the station's windowed State Street Studio.
According to Chicago media observer Robert Feder, the station is updating its lighting in the studio.
The temporary set, shown above, features a small desk that mimics the look and feel of the main anchor desk and is backed with a dura that very closely matches the one on the full set.
WLS-TV is also making use of its secondary weather center, located upstairs from the main studio. This set was built after the station debuted lifestyle show "Windy City Live." That show's live studio audience and production needs, whose studio space backs up to the news set in the same open space, meant the windowed news and weather studio couldn't be used in the hours surrounding "Windy City Live."
NewscastStudio took a walk by the studio Sunday and observed the studio floor is littered with ladders and lighting instruments.
The station recently performed unspecified repair work on the freestanding ribbon outside the studio and has also gotten around to updating the font on the LED ticker that displays headlines to State Street passersby.
You will also recall the WLS-TV's State Street Studio was the scene of a 2007 incident where van crashed through the windows.
WLS-TV is one of two stations in the market that maintains a streetside studio — NBC O&O WMAQ-TV shuttered its last year.