South Bend station upgrades set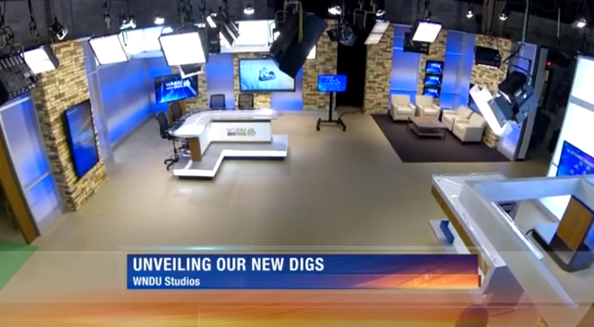 WNDU-TV, the NBC affiliate in South Bend, Ind. has debuted a new set that gives the station a big market feel.
The new set by FX Design Group, which debuted this week, includes an L-shaped anchor desk situated in the corner that includes a large screen monitor behind it. Also behind the anchors are backlit walls that include a moving light effect.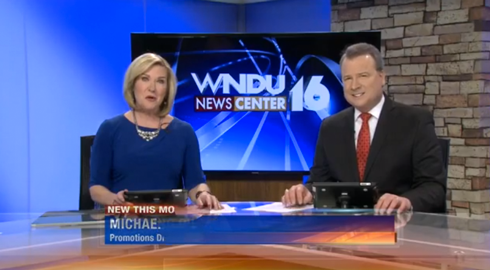 To one side of the set is a standup area with large touchscreen monitor. Another standup area on the opposite side features a wall-mounted vertical flat screen.
The set is also accented with faux stonework and metal framing, including header elements that jut out over the anchor and touchscreen areas and weather center.
Additional backlit headers area installed above the set, but are set to a bright white instead of the colored tones.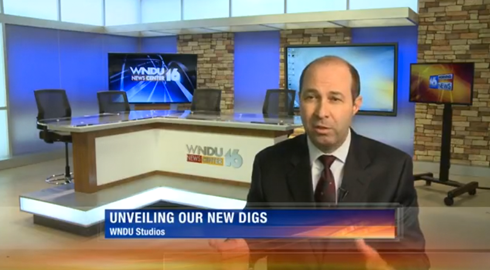 An interview area and weather center mirror the set's stonework and backlit paneling and also boast additional monitors.
This set is a great upgrade for WNDU-TV and gives it a big market look and feel. The design is simple, fresh, modern and tasteful and the moving backlight effect is an interesting take on what's become a rather common feature on news sets — the backlit wall.
The faux stone is used effectively break up the stretches of backlit wall and provide some texture, though perhaps using a thinner stone may have matched the rest of the set a bit better (though, in fairness, perhaps the budget meant the design needed to stick with readily available options).
Watch the station's package on the new set below:
[field name=iframe]