'Nightly' gets its own weather maps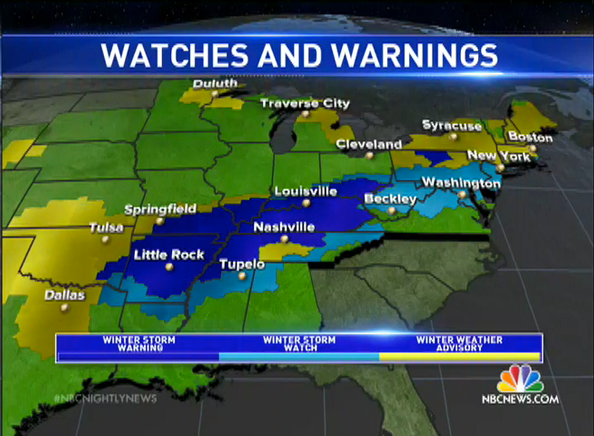 Since NBCUniversal's 2008 acquisition of the Weather Channel, the cable network's maps and graphics have popped up all across the NBC family — including "NBC Nightly News," MSNBC and CNBC — but now at least one property has veered away from that practice.
"Nightly News" has started using weather maps that aren't branded with the Weather Channel logo. The maps also appear to be inspired by the "Nightly" graphics package with similar typography and subtle accents to horizontal lines seen in the on-set rear projection graphics.
The maps, however, are a slightly different shade of blue — a bit brighter — than those founds elsewhere in the "Nightly" package.
Recently, "Nightly" has favored having NBC forecasters Al Roker and Dylan Dryer in studio for updates, including setting up Roker with a corner of the studio and touchscreen, though Weather Channel forecaster Mike Seidel did appear on a weekend edition of "Nightly" in a memorial (and viral) missed live shot that lead to speculation Seidel may have been relieving himself (a claim NBC denied).