'Nightly' makes use of 'Rock Center' area for WX segment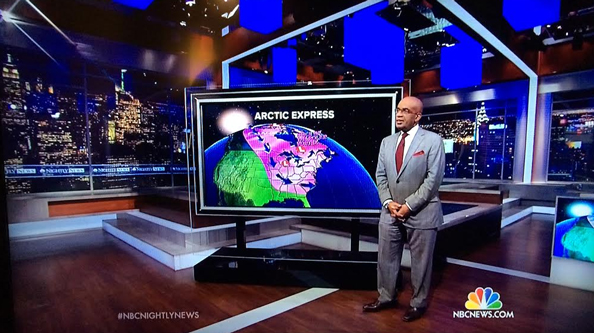 On Wednesday's "NBC Nightly News," "Today Show" cohost and forecaster Al Roker joined Brian Williams in-studio, giving viewers a glimpse of an area of the set that hasn't gotten much use since "Rock Center" went off the air.
After Williams tossed to Roker, the network took a wide shot of Roker that was impressively framed to show off Studio 3B's lighted rafters and internally lit lanterns.
Roker used a large flat panel screen with glass frame that was placed diagonally in front of the former "fire pit" couch area of the set that was replaced with simple risers midway through the troubled "Rock Center" run.
Behind Roker and the screen, the studio's rear projection screens were filled with a New York cityscape image that also had a branded "Nightly News" band a few feet from the bottom of the screens.
The segment could have benefited, however, from some kind of relationship shot between Williams and Roker to show the two were in the same space. The lack of a toss shot also caused a visually awkward moment when the director cut back to a one shot on Williams that was framed for an OTS and, as he thanked Roker, that space remained empty with Williams appearing to be off center.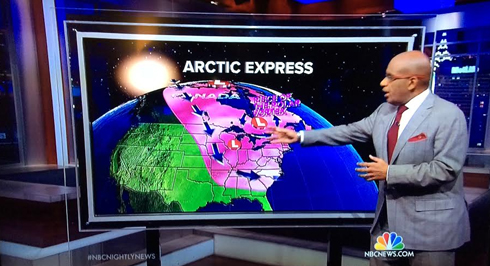 The area of the studio Roker appeared in was originally designed mainly for "Rock Center" — though it was used occasionally on "Nightly" both during the former's run and after it was canceled.
For example, last February the broadcast used the area to cover the Russian meteorite with in studio guest Neil deGrasse Tyson.
This area of the studio has shown up on "Nightly" when there is a correspondent debrief at the anchor desk — the rear projection screens being the most prominent element. They are often fed imagery of Times Square for these shots.
Roker is no stranger to Studio 3B — his Weather Channel show, "Wake Up with Al" used the "Nightly News" set for a short period in September 2012 while his normal studio was unavailable.