'Nightly' keeps look as Holt takes helm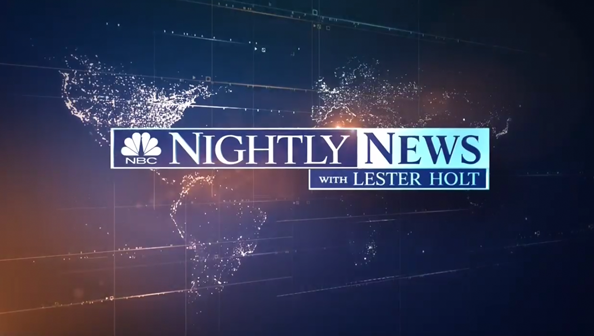 Despite a new anchor, the visual look of "NBC Nightly News" remained the same on Lester Holt's debut as permanent anchor of NBC News' flagship broadcast.
The opening graphics and title card remained the same, including the continued use of the new, angled tease graphics introduced just over a week ago.
Gone, however, is actor Michael Douglas as the voice of "Nightly," but Holt's name is now appended to the show's logo — though NBC already had a version with his name since he was the regular anchor of the weekend edition.
Those changes come as Holt takes over as permanent anchor of "Nightly," following the announcement that Brian Williams would not return as anchor but instead be reassigned to MSNBC.
Meanwhile, "Nightly" continues to experiment with camera setups — Holt started Monday's broadcast standing slightly away from the studio's smaller desk. As the broadcast started, Holt took a step forward and placed his scripts on the desk.
That desk was originally on the now-defunct "Rock Center" side of the set, but was relocated when "Nightly" took over that portion of Studio 3B last September.
It's worth noting that the coffee mug Holt was using was a generic NBC News one and not a "Nightly" branded one bearing Williams' name like Holt used in the day immediately following the start of Williams' suspension in February.