'Nightly News' reworks set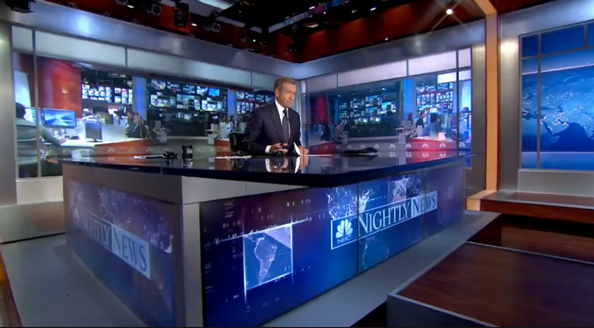 Returning from the Labor Day holiday meant a bit of a change of scenery for "NBC Nightly News." The broadcast debuted a revamped set and some graphical tweaks on its Tuesday evening edition.
The new set appears to recycle elements from the set installed in 2011 in Studio 3B for the debut of the now canceled "Rock Center." That design created a large combined studio space for "Rock Center" and "NBC Nightly News" and closely mirrored the look and feel of the 2007 set built to accommodate the combined NBC News and MSNBC newsroom. The new look sheds much of the structural elements of the 2011 set in favor of wide expanses of rear projection screens. Also gone are the "lanterns" that became a bit of a trademark for NBC News and MSNBC sets. Anchor Brian Williams' anchor desk, which is still fronted with video panels, is now situated in a way that, if the camera shoots Williams at an angle, two walls of projection screens meet almost directly behind Williams. This allows the network to show imagery on both walls while still including the structural column where the screens intersect, giving this shot depth and dimension — as well as not making it appear too "virtual."
The rear projection screens, which are also topped with frosted backlit panels, are often used to display both a generic world map graphic inspired by the show's graphics package as well as video loops of what appears to be the newsroom and control room of the network's Brokaw News Center in Los Angeles — an interesting choice given that "Nightly" is located in New York City. These loops are designed to appear to be windows, with vertical lines representing the separate "panes" and a faux frosted band of NBC peacocks running across the image.
In addition to the video loops, producers now use the screens for themed OTS graphics for various stories. While "Nightly News" has made use of rear projection and video walls since the Tom Brokaw days, these graphics are a bit different in that they are fully designed, whereas, especially of late, the network had used generic looping backgrounds and then simply overlaid video or still images and text.
Quite often these elements weren't even projected on the screens — but rather inserted just like a standard OTS by the graphics system. The network has also switched to using consistent typography on its graphics, which is displayed in a darker semi-transparent band with subtle graphical elements on the edges.
For the show's opening tease, the camera shoots Williams from behind the desk and each story is accompanied by a themed image and text on a narrow rear projection panel.
At the end of the tease, before cutting to the animated open, Williams is seen flipping his chair around, a nice touch that combines a bit of a casual feel and a "time to get to work" approach.
Meanwhile, in-studio guests such as Dr. Nancy Snyderman, who appeared on Tuesday's edition, are placed in front of the 3×4 video wall similar to (and perhaps recycled) the one used as Williams' main background since 2001. Flanked by smaller wall-mounted screens, the background shows a control room loop while the cross shot between Williams and the correspondent takes advantage of the video walls to show a relevant image.
In addition to the rear projection OTSs, "Nightly" also has a redesigned standard OTS that sheds the darker blues and purples in favor of an odd mix of pastel yellows and oranges that seem like they would be more appropriate on "Today."
The debut of the new look coincided with David Muir's first day on "ABC World News Tonight" — and, interestingly, NBC's new look seems to be a nudge in the direction of ABC News' use of large rear projection and video walls. The network's evening news set has been dominated by a large rear projection screen since late anchor Peter Jennings' days — and was recently updated to a curved flat panel wall. Video walls also play heavily on the "Good Morning America" set, which uses a live feed of Times Square as its main anchor desk background. Thanks to the multiple readers for the tips via email and Twitter.