Viewer mistakes NBC peacock for gay pride avatar


As news of the Supreme Court's decision on marriage equality spread, many companies and organizations switched their Facebook profile photos to rainbow themed tones — and one Little Rock, Ark. viewer lashed out at his local NBC affiliate for changing its logo to a rainbow themed one.
The only problem — it hadn't.
Facebook user Don Stair, who posted his displeasure to the station's Facebook page, was actually viewing KARK-TV's logo that was, as it has for years, includes the NBC peacock.
The NBC peacock is one of the most recognized brand symbols in the world — and has always featured multicolored plumes.
Originally introduced in 1957 and featuring 11 feathers, the logo was designed to mark the advent of color television broadcasting — and a not-so-subtle hint at the network being "proud as a peacock" for being the first with this technology.
The logo was used until 1976, when the network switched to a trapezoid themed logo.
But the peacock made its return in 1979 in a simplified form and placed over the trapezoid shape.
In 1986, Chermayeff & Geismar redesigned the logo again, making it even simpler (and abstract) — taking on its present form. Since then, NBC has applied a variety of effects, such as a sheen or "gel" to the logo at different times, but the basic shape and colors have remained the same.
All this apparently alluded Stair — and he took great offense to the station's use of the rainbow hued logo, posting this to the station's page: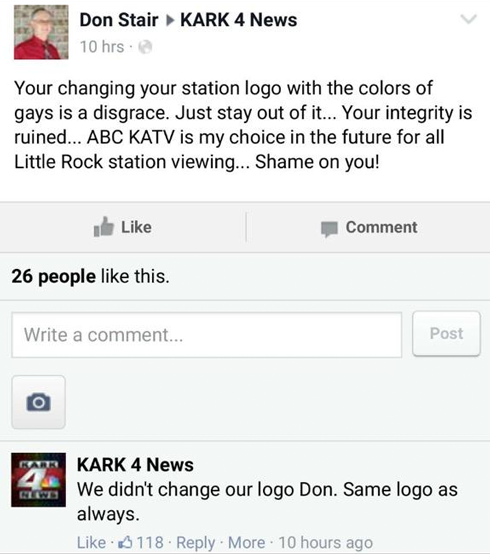 The station responded with the rather straightforward comment you see above, but other viewers lashed out at Stair — one even posting a rainbow-ized version of Stair's own Facebook photo to the station's page: