Chicago ABC teasing new studio with large banners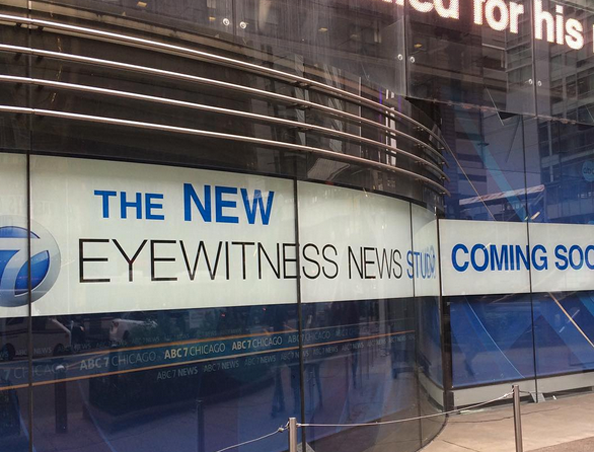 WLS-TV reporter Ben Bradley posted a photo of the exterior of the Chicago ABC O&O's streetside studio, covered with banners promoting the new look.
[field name=iframe]
The station moved to its alternate set back in August and then, a few days later, moved to a relocated and slimmed down version of its old set as work began on its State Street studio.
The new set, which is expected to debut in time for November sweeps, replaces one first installed in 2006. Construction on the set is reportedly taking a big longer than would be typically because of some structural updates that needed to be done to the building.
Outside the State Street building that WLS-TV calls home are banners reading "The New Eyewitness News Studio Coming Soon."
Behind them, the pull down "window shade"-style printed graphics that were installed with the original set (one of which doubled as the chroma key wall) are visible, blocking the view entirely from passerby.
WMAQ-TV, the market's NBC affiliate, closed its streetside studio back in 2013, leaving only WLS-TV and CBS O&O WBBM-TV with windowed studios.
The update at WLS-TV will mark the start of set changes in the Chicago market, with sources saying WBBM-TV and CW affiliate WGN-TV are planning new sets as well, but it is unclear if they will debut this sweeps period or in early 2016.