ABC Chicago gets another temporary set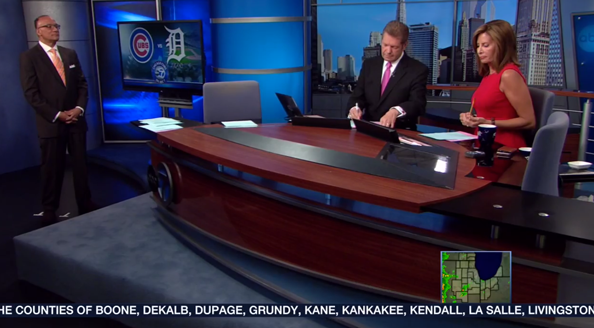 WLS-TV in Chicago has moved from its temporary set to … another temporary set.
The "new" temporary set for the ABC O&O uses pieces from the station's previous set, including the anchor desk, internally lit pillars, duras and the branded panel in the center between the anchors.
The station is in the midst of overhauling its State Street Studio in preparation for a new set, expected to debut this fall.
Much of the latest temporary set remains the same as the previous set — though the interview and traffic area and weather center were not incorporated and the holes in the set where those would normally be are covered by blue-gray walls.
The anchor desk also now sits on a blocky riser and the camera angles appear to be slightly different based on how some shots are framed.
The station did retain the two flat screens that flank the anchor desk. In addition, the station's "Big Board," used primarily for traffic in the mornings, has returned after several days of presenting traffic in front of the chroma key wall.
WLS-TV already had a secondary weather center and work area on the second floor of its headquarters.