Jacksonville station went live on new set early for Irma coverage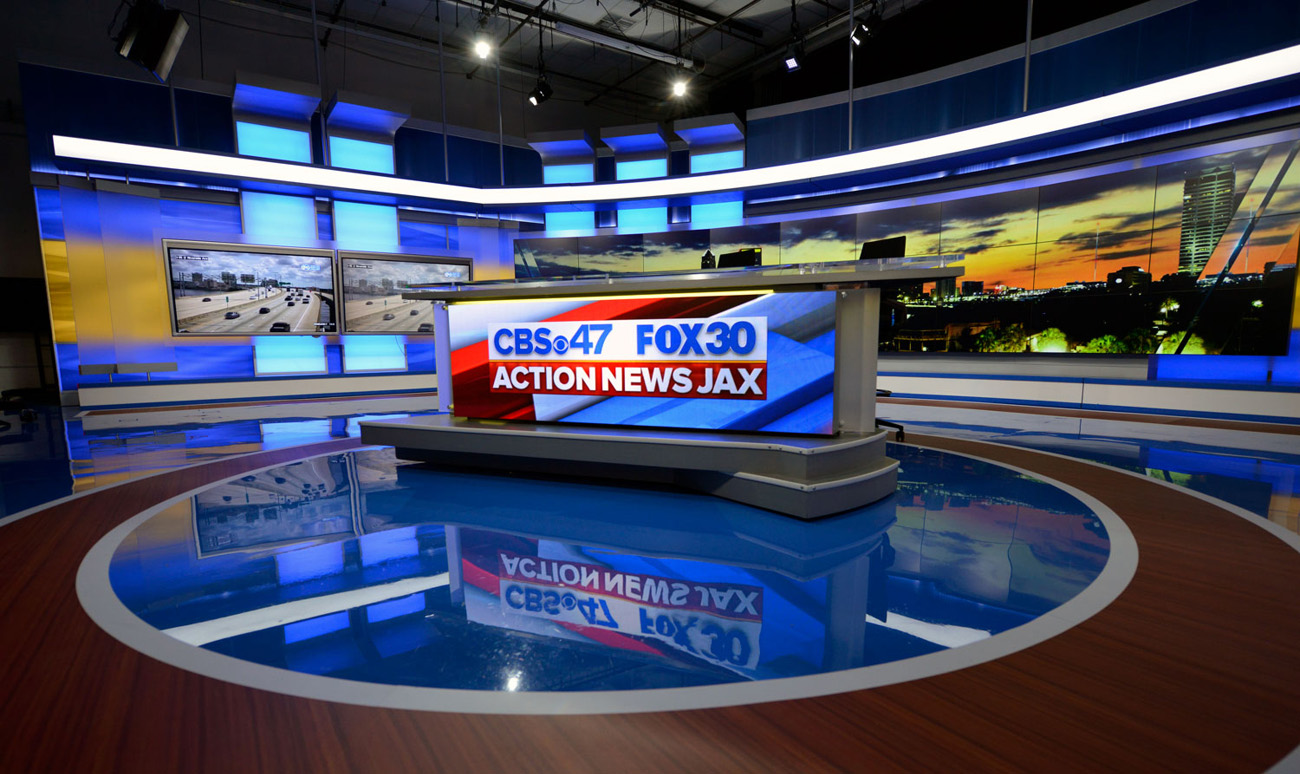 After weeks of preparing for a brand-new set, Cox Media's CBS-FOX duopoly, WJAX–WFOX in Jacksonville, Florida, knew they had a decision to make as Hurricane Irma bore down on its community.
With viewers relying on them to deliver days of around the clock hurricane coverage, the station decided to accelerate the schedule and implement the new technology contained in their new scenic storytelling environment designed by Devlin Design Group.
"We launched early because we felt the set had so many areas where we could showcase video and talent. 27 Monitors behind the set, two touch screens, two other large multi-screen areas. It enabled us to tell a more visual story, and a more compelling story," said Bob Longo, news director at WJAX-WFOX in a statement.
The Jacksonville area is accustomed to extreme weather, so an impressive weather center designed for extensive coverage was included in the design from the start.
The team also needed a layout to accommodate multiple meteorologists with immediate access to technology and different visual areas to better explain the threat to their audience.
Part of the design includes a room where viewers can witness the behind the scenes action of breaking weather.
"Weather is a huge audience driver, both for on-air and digital platforms" said Craig Davenport, the station's creative services director said in the statement. "The design team at Devlin Design Group understood that and created a weather center that gives us the ability to better showcase how we track severe weather in North Florida."
The versatile and limitless storytelling areas around the set keep the WJAX team energized.
A 9×3 video array is a compelling backdrop for the main desk as well as showcasing "the big story." A 3×3 array of 46-inch monitors anchor the impressive weather center along with a rolling 90-inch kiosk.
The weather room contains five 49-inch monitors.
An 80-inch touch screen plus another 80-inch monitor for breaking news and weather allow for interactive and more intimate storytelling.
A 2×4 array for stand ups complete the impressive look.
It was also important to the WJAX group to reflect their coastal Florida surroundings.
An abstract wave pattern across the RGB LED color-changing, back-lit set pieces adds another layer of flexibility to the design.
A blue epoxy floor mimics calm waters and beautifully reflects the scenic storytelling environment.
WJAX used Brightline Evolutionary Lighting Systems to illuminate the news team and the stunning design.
"As a Floridian impacted by Irma, I understand the importance to the community, and appreciate local news and weather coverage during these extreme events. I am thrilled the collaboration between the staff at WJAX and Team DDG resulted in a design that met and exceeded their needs in getting valuable information out to the Jacksonville community during this historic storm," said Diane "DiFi" Fiolek, creative services director at Devlin Design Group.